A high bounce rate can negatively impact your search engine rankings therefore you should find ways to reduce bounce rate. This post is all about how to reduce the bounce rate of a blog using easy strategies. 
Don't know what the bounce rate is? How to check it for a website? Or some more questions. 
This post is all about bounce rate. By the end, you will know everything about bounce rates and have ideas to reduce the bounce rate of your blog. 
If you would think "why do I need to lower my website bounce rate?" It is because Google uses it as a metric to determine the ranking positions. 
If it is high, that means readers don't like reading your content and your rankings can be decreased. 
And if it is low, that means readers are spending time on your blog and like reading your content and your position can be increased. 
If your website bounce rate is high don't panic, here are some easy ways to reduce bounce rate and keep your readers longer on your site. 
SOUND GOOD? SAVE THIS PIN PLEASE.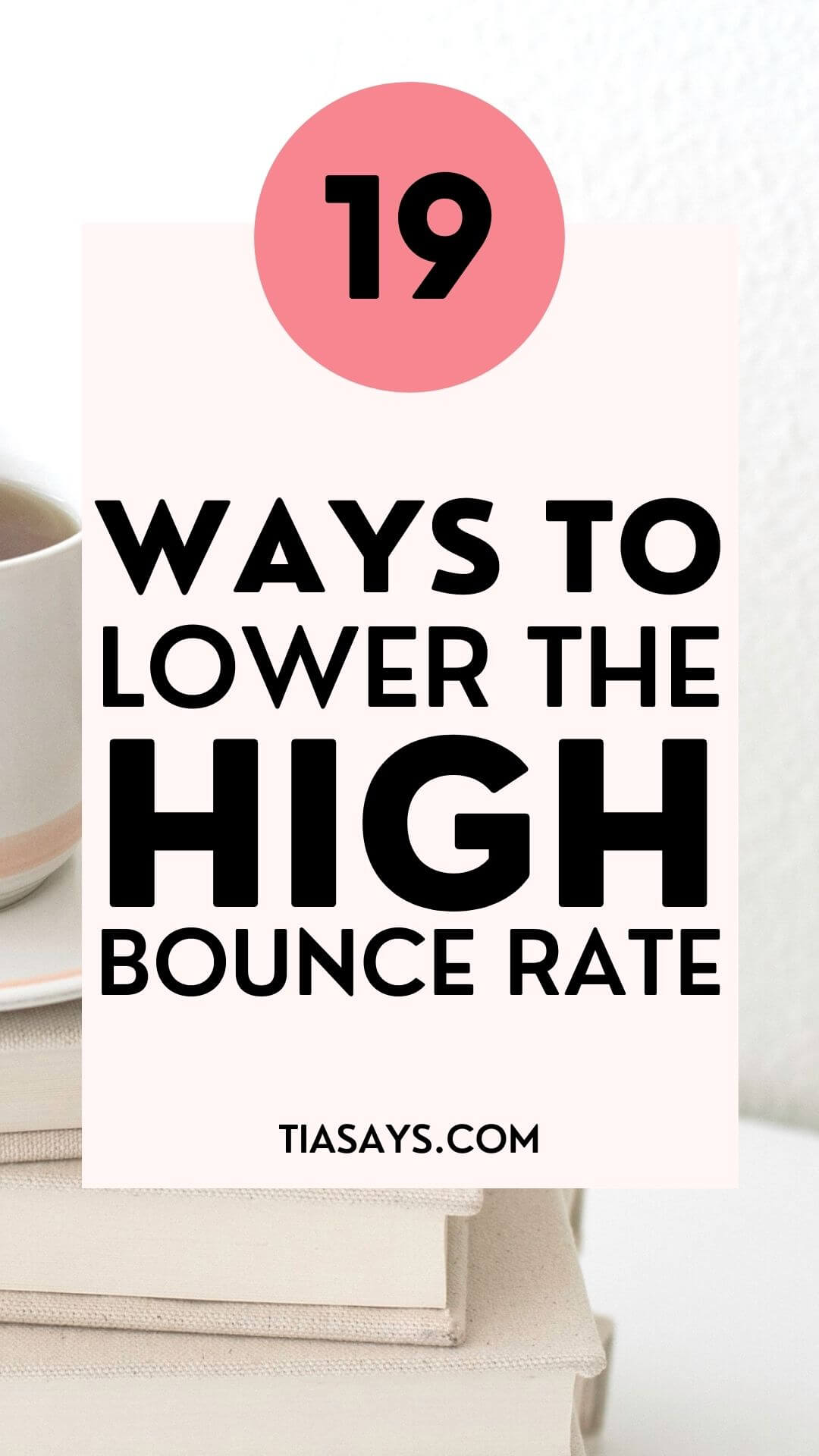 This post may contain some affiliate links that is I may earn a small commission at no extra cost to you that I would use to maintain this blog. Thanks for understanding.
Let's begin with the basics. If you want to read the methods straight, skip the first two sections.
What Is the Bounce Rate? 
In SEO, bounce rate is a metric that is one of the 200+ factors that the Google algorithms use to determine rankings. 
You can find the bounce rate on Google Analytics. 
The definition of bounce rate according to Yoast is,
"Bounce rate is a metric that measures the percentage of people who land on your website and do completely nothing on the page they entered. So they don't click on a menu item, a 'read more' link, or any other internal links on the page."
Meaning, bounce rate is a number that determines the percentage of visitors who didn't engage with your website by clicking on other links. 
How Is Bounce Rate Calculated? 
The bounce rate of a website is calculated by Google and is available on Google Analytics. 
Google defines it this way, 
"Bounce rate is single-page sessions divided by all sessions or the percentage of all sessions on your site in which users viewed only a single page and triggered only a single request to the Analytics server."
In simple terms, it is equal to the number of engaged sessions divided by the number of total sessions multiplied by 100. 
If it is complex don't get into the calculation, on your Analytics dashboard you can see the bounce rate metric. 
But, don't confuse it with the exit rate. So what is the exit rate? 
Exit Rate VS Bounce Rate
Exit rate is the percentage of sessions that were last in the session. 
It is a page based metric. It is used to find out the page that was opened when the readers left your site. 
For example, if you have a page XYZ on your site then the exit rate of that page is calculated based on the number of visitors who landed on this page and left your site. 
You can find Google's version of exit rate vs bounce rate here. 
The exit rate is, however, a metric that helps you find out pages that are not performing well so you can optimize them. 
Now when you know what is bounce rate is in Google Analytics it is time you learn what would be a good bounce rate for your blog. 
What Is A Good Bounce Rate?
For different types of websites, the bounce rate varies. It is so because of the interaction of the visitors. 
For example, if you have a blog then you produce content that your readers will read and want to read more so they will stay longer. 
But if it is an online store, then your visitors would navigate through the products buy some of them, and leave your site. 
In both the examples above the user behavior are different.
So it depends on the type of website, user behavior, and the website's contents. 
Here's how the bounce rate varies for a blog website. 
80% and more is a high bounce rate. 
70 – 80% is also high and you should improve it. 
60 – 50% is average. 
50 – 30% is a low bounce rate. 
If you check the bounce rate on Google Analytics you will find a numerical digit between 1 to 100. You can use this scale to analyze it for your site. 
Why Bounce Rate Matters? 
A lower bounce rate is more important than ever after the Google core web vitals update. 
If you don't know about it yet, it is your website speed. Google would rank a site based on how quickly it loads. 
According to Google, your website should load within 2 seconds. 
It is because Google wants to deliver information to its visitors quickly and you should too. 
If your site takes forever to load then the visitor can be annoyed and leave your site thereby increasing your site bounce rate. 
It was okay until Google found this. 
Google will soon notice that visitors are leaving your site quickly which indicates that the content isn't helpful and so it should not be ranked. 
This is how your rankings get affected. 
So you should focus on improving your blog bounce rate so that your readers aren't annoyed when they land on your site and want to return. 
But how do you reduce the bounce rate of a website? By following the steps below. 
How To Reduce Bounce Rate Of A Website? – 19 Ways
The point behind reducing the bounce rate is to keep your readers longer on your website. 
The ways below are simple and you can easily implement them. 
1- Improve Page Load Time. 
In the above section, I've stressed why your site speed should be below. If you want, go read it first. 
Ideally, if your site loads fast then readers won't leave your site and the bounce rate would be lower. 
To check your site score you can use these two tools GTMetrix and Page Speed Insights both of them are free. 
After that, you will have a clear picture of what is your present site performance. 
From there, you can follow these steps to improve your site speed. 
Clear cache. 
Remove unnecessary plugins. 
Optimize images. 
Here are some more ways to improve your site speed. You should check out this list as I have only included the easiest ways that don't require any technical knowledge. 
2- Make Your Site Mobile Friendly.
It's not a surprise that your readers use mobile phones to use your site. 
If your site is not designed for mobile devices then your readers would bounce off. Therefore you should have a mobile friendly website. 
How do you do it? 
Install a responsive theme like the Astra Theme. Check out my Astra WordPress review.
Or you can convert your theme into a responsive theme by designing it with the Elementor plugin. 
However, the best way is to install a responsive theme. 
If you are not sure how to choose a WordPress theme for your blog these posts can help. 
3- Use Good Web Hosting. 
Most of the time readers leave your site because the poor web host is making site functionality slow. Or your site isn't responding at all. 
That's when you realize that it is time to move to a better web hosting service like Bluehost. 
Bluehost doesn't only have 99.99% uptime but also responds to your queries and loads your site fast. 
Trust me, poor web hosting is not okay. You will always be worried that your site goes down. 
If you need help with finding a web hosting service for your blog here are some resources. 
4- Write Quality Content. 
People would return to your site if you deliver good content. 
Therefore, don't just stress about sending a blog post every week, focus on publishing valuable content. 
If you need help with writing good content then here are some articles for you to start. 
Another thing is to keep updating old blog posts. This helps keep the information fresh. Nobody wants to read useless outdated content. 
5- Add Images And Videos. 
No one likes to read a black and white page of long boring content. No matter how interesting it is. 
They wouldn't care if it is boring. Therefore you should beautify your content with images and videos. 
Images not only increase shares but also keep your readers engaged. 
Videos are working so well for bloggers. Digital marketers like Neil Patel and Brian Dean recommend adding videos. 
Because these are very engaging and readers love watching content. 
Use the Shortpixel plugin to compress images that you upload on your WordPress dashboard. 
6- Fix Broken Links.
If a visitor clicks on a link but it shows a "page not found" error then it is the worst user experience. 
Therefore you must do a site audit and find out all the broken links and fix them. 
7- Use Internal Linking Logically.
You can not cover a completely different topic on a blog post that is based on another topic. 
Therefore you add links. These can be internal (leading to the other pages on your site) or external (leading to a different website) links. 
You should add relevant internal links so that they click on them. But don't overdo it. Only add it if you feel necessary. 
For external links, try to add at least one link to a website with a bigger DA. 
8- Add A Search Bar.
A simple trick to help random browser visitors. 
Add a search bar to the sidebar to help them find something they are looking for. This will help them find the specific information and keep them longer on your site. 
You can also use this information to find more blog post ideas. 
9- Add Table Of Contents.
Sometimes when a blog post is long the reader skims through it. 
And if he didn't find anything useful he leaves. 
Adding a table of contents can help them find exactly what they are looking for. 
You can install a free Easy Table Of Contents plugin. 
It would create a list of contents by extracting the H2 and H3 tags at the beginning of the blog post. 
So readers can navigate to the section they want to read. 
10- Include A Call To Action. 
Add a strong call to action at the end of the post to tell your readers to navigate on the other pages of your site. 
It can be a link to another post. This way you tell your readers to do this thing next. 
11- Increase Readability. 
There are some factors that you can try to make your content more readable. 
The first step is to if you haven't already, install the free Yoast SEO plugin and it will help you make your copy natural. 
It will give you a list of to-dos to make your blog posts appealing to readers.
Some other points to consider are
Use simple language. 
Keep your paragraphs short. 3 to 4 sentences minimum. 
Write short sentences. 
Add subheadings. 
Use bullet points. 
Add quotes.
There are a lot of blocks that you can use on the WordPress dashboard. 
12- Display Related Posts.
Add 3 to 4 related posts at the end of your blog post to tell your readers what to read next. 
Because if you don't add them they would leave it. 
Your current theme would have the related posts option but if it doesn't have then you can install a plugin like YARPP. 
13- Design A Beautiful Website. 
How your website looks is also important to keep your readers. 
Your website should follow a theme and must be easy to navigate. 
You don't have to hire a web designer to design a beautiful site when you can do it yourself using the Elementor plugin. 
It is a drag and drop plugin that makes the designing process easy. Plus it has beautiful premade templates for everything. 
I've designed my site using the Elementor plugin. 
14- Optimize For The Right Keywords.
So important. 
If you want to keep your readers on your site you have to show them the information they come looking for. 
For that, understand the search query. 
Let's take an example of a bad guess. Suppose I want to list the various web hosting companies. 
During my keyword research, I noticed that the keyword "types of web hosting" is much easier to rank. 
Now suppose I optimized it for this keyword and it got ranked. 
Whenever a reader clicks on this post he wants to read about the types of web hosting but it is something else. I wrote on the various web hosting services available.
So my reader leaves. 
Therefore, understanding and optimizing your content with the right keyword is crucial. 
You can easily learn to find the user intent by using the Google search bar. 
Simply type a query and analyze the type of content that appears. 
Is it a list post? Tutorial? Landing page? Go through each post to see the type of information. 
You can learn it with a little practice. 
15- Avoid Using Pop-Ups. 
If you want to, then use exit pop-ups. 
Pop-ups are irritating and I can't count how many times I have left a website because of an irritating pop-up without a close button. 
If you want to hear more frustration then check out any similar conversation on Facebook groups. 
But not all of them are bad. If you want to grow your email list then pop-ups can be great. 
A good way to use them is to set them in such a way that they show up when the user is leaving. 
To tell them, hey you are leaving I have this for you!
With Mailerlite, I can easily set popups to show when my readers are leaving. 
16- Don't Use Too Many Ads. 
If you are with any ad network (check out this list if you want to) then your site would display ads. 
Many times, these ads can be annoying in such a way that readers won't stop. 
In such a case, you would want to customize those ads that they don't irritate the visitors. 
You can easily do this by customizing your ads. Most ad networks have those settings. 
They should allow you to determine the number of ads, where you want to place them, and more options.
17- Write For Your Readers.
The best way to keep your readers engaged is by writing for them. By answering their questions. 
How do you do it? 
Here's how I did it. 
The first step is to determine who your target reader is then you find out their questions. 
You can ask your email subscribers or social media followers. 
For example, I asked my followers on Twitter what post I should write. It was a poll. 
A few of them told me to compile a list of affiliate programs for bloggers. 
And I have got more than 40 comments on that post within a month. 
Therefore, if you write for your readers then you keep them longer. 
18- Set External Links To Open In A New Tab. 
If you don't want your readers to leave your site and go to another site that you linked to your blog posts then set those links to open in a new tab. 
After this, all of the links would automatically open in a new tab and your readers can switch between the tabs to return to your page. 
But most importantly, this would not increase the bounce rate of your blog. 
19- Write Niche Specific Blog Series.
This trick is super useful for lowering your website bounce rate. 
If you want to cover a big topic then you can break it down into 3 to 4 blog posts and link them. 
This way whenever a visitor reads a part of the series then tell him to check out the other parts. 
I wrote a Pinterest series this way. 
Conclusion
So this is how to reduce the bounce rate of a website. 
If you have followed the post till here then you must have a lot of things to do to your site to decrease the bounce rate of your site.
Now when you know what a bounce rate is, check it on the Google Analytics dashboard and have a handful of ways to reduce it then you can easily implement these ways. 
My blog bounce rate used to be very high. I've seen the improvement after I added the related posts section. 
But the real spice is in your content. If it is helpful they are going to want to read more articles from your blog. 
If you want to learn how to actually write an engaging blog post read this post. 
Have any questions? Put them in the comments below. 
I hope you found this post helpful. Follow me on Twitter, Facebook, and LinkedIn. Or why not subscribe to my newsletter and get blogging and writing tips straight to your inbox every week?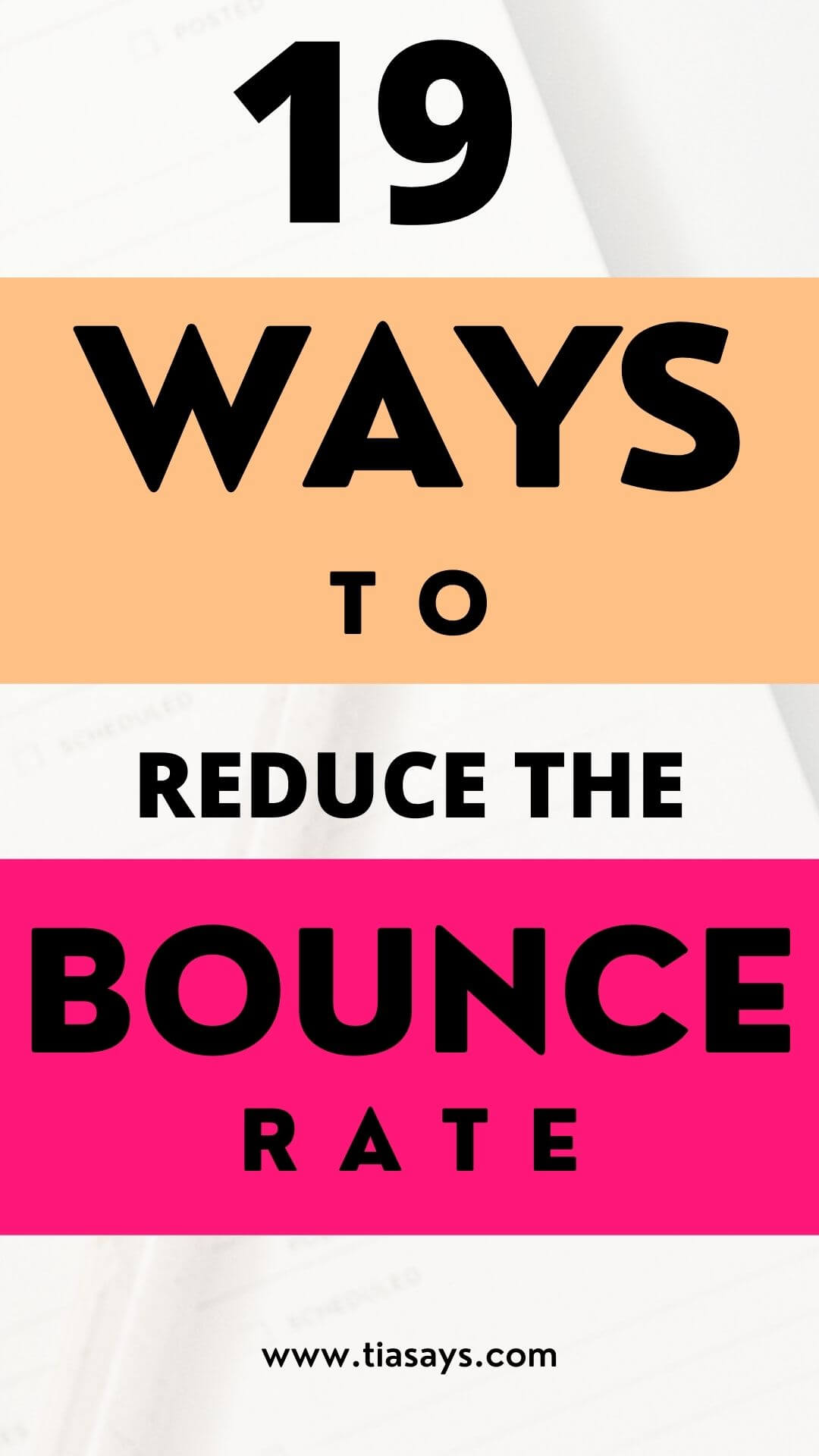 So now that you know how to reduce the bounce rate why not speed up your WordPress site?