Hate brainstorming new content ideas? You must know about the various types of content marketing. Then, create awesome content and impress your audience. 
Because you will want to include various content forms in your strategy. 
There may be many benefits of content marketing but the most important one is a better user experience. 
When you serve your readers different content types they are more interested in exploring your website. 
But when you publish similar-looking posts then your readers can get bored. 
Another great reason behind this is that when you have multiple options marketing becomes much easier. 
Therefore, for bloggers, having a website content plan is equally important as social media marketing. 
In this post, I'll try to get you one step closer to forming your plan. 
I have collected the top-performing content marketing types for bloggers so that you can include them in your schedule effectively. 
SAVE THIS PIN PLEASE.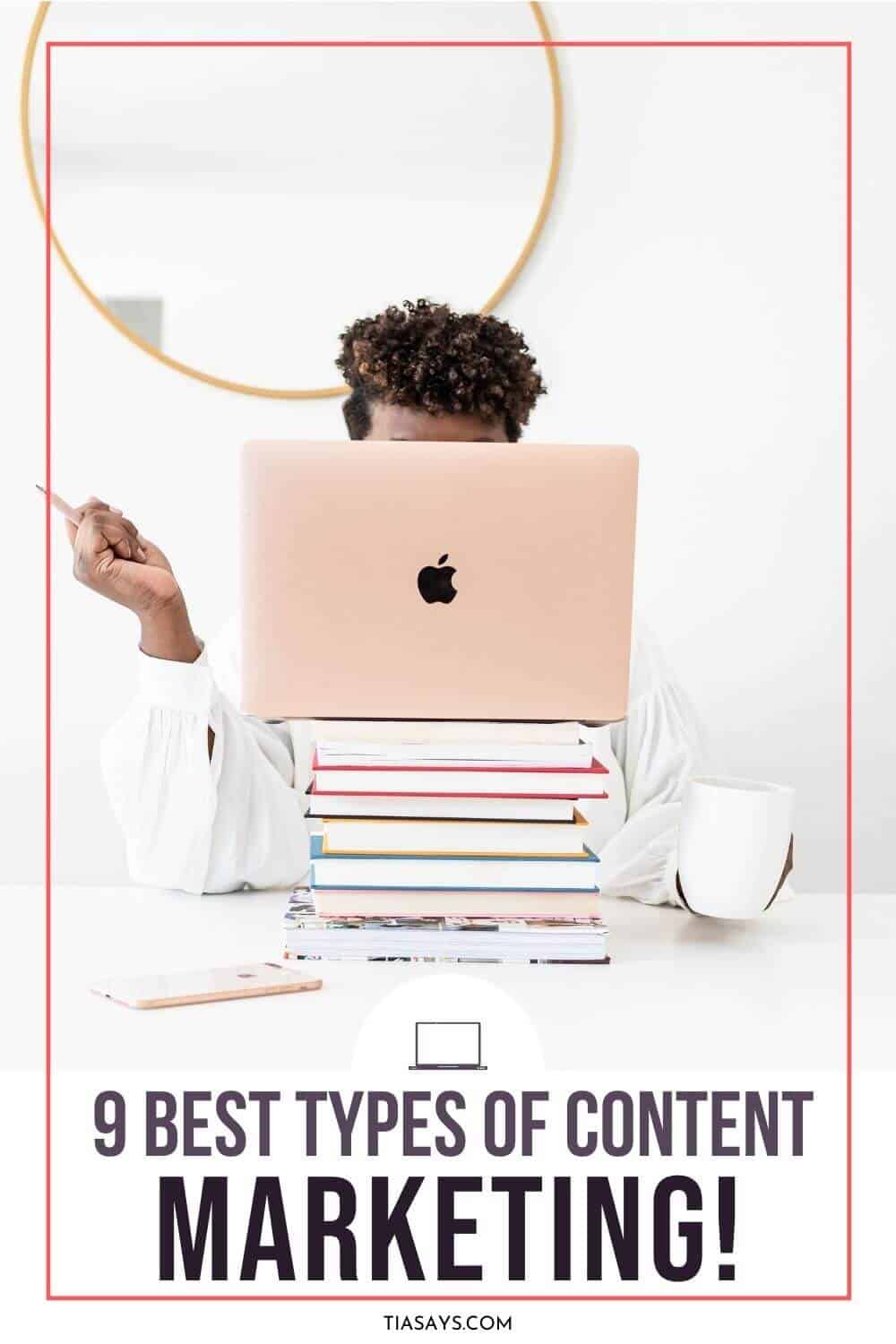 This post may contain some affiliate links that is I may earn a small commission at no extra cost to you that I would use to maintain this blog. Thanks for understanding.
Let's touch on some basics. 
What Is Content Marketing?
The definition of Content Marketing according to CMI is 
"Content marketing is a strategic marketing approach focused on creating and distributing valuable, relevant, and consistent content to attract and retain a clearly-defined audience — and, ultimately, to drive profitable customer action."
The purpose of content marketing is to help you create (smart) content that your readers want to read about. 
So you need a blog strategy for content marketing.
But before that, you should learn about these different types of content marketing so that you can use them also. 
Don't worry, I'll add a link to help you form a blog plan below. 
For now, let's come back to the list of content types. 
9 Top Performing Types Of Content Marketing For Bloggers
We want different results such as increase traffic, boost sales, email signups, and more. 
But for beginners, it all comes down to boosting blog traffic. 
These most popular types of content will help you grow your blog traffic faster.
Let's discuss each form of content one by one.
1- Blog Posts
As bloggers, we have written blog formats a lot of time and by far it is the most popular one. 
Writing blog posts is an easy task but writing SEO-optimized blog content is a bit more. 
SEO optimized content ranks on search engines and brings organic traffic. 
I learned this when one of my blog posts started ranking for a term. 
I noticed that without any marketing I was receiving a few monthly views on that post. 
That's when I started content planning to write more blog articles that would rank on Google. 
You should learn how to incorporate SEO with your blog content to get more traffic from search engines. 
However, getting results from Google takes time (a little more than social media) so I want to tell you that don't expect to see any progress quickly. 
Creating evergreen content will help you get traffic for a long time.
All of these will help you create different types of blog content easily. 
Because as a blogger, you should know about writing blog posts.
2- Infographics And Images
Images (visuals) fall in the content category that is shared the most. 
Therefore, having attractive images on your blog can help you drive a lot of social media traffic. (More on this below)
Nowadays, when readers don't want to read a black and white wall of text, adding images can get you one step closer to winning a reader. 
Not only this, images are a type of engaging content that also helps in SEO. 
By applying the right image SEO, you can rank your blog posts for image search. 
Of images, Infographics are the best types of content. 
Infographics are informative images that are created to provide information attractively.
Here's an infographic I created for this post.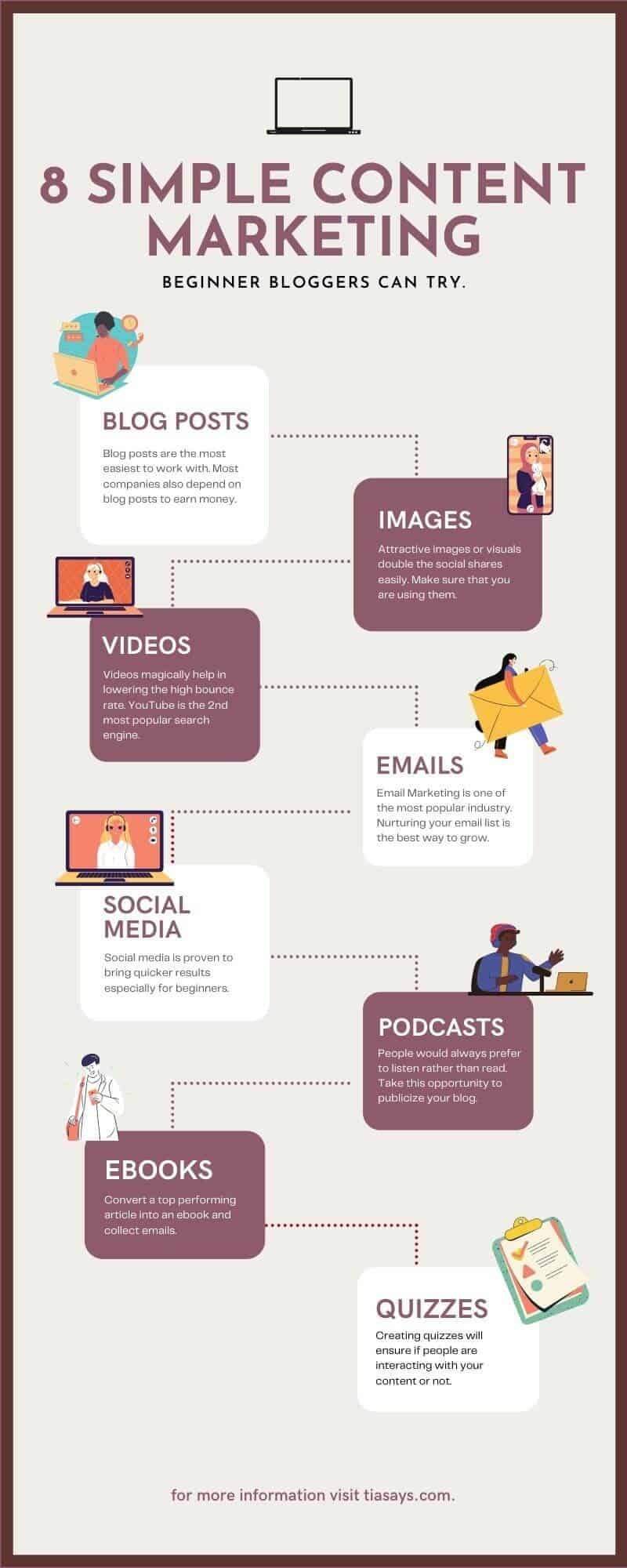 You can easily create infographics using the free Canva tool by the premade templates that are available. 
If you can create beautiful as well as helpful infographics then you can build a lot of backlinks. 
3- Videos
Do you know that YouTube is the second most popular search engine platform? The first is Google. 
Although, YouTube is also owned by Google. 
However, big platforms like Bing and more can't outrun YouTube. Because of videos. 
YouTube uses video types of content. And videos capture attention easily. 
And that's the reason why YouTube is the 2nd most popular search platform. 
Google also shows video snippets in search results that confirm that Google wants to show more videos to its audience.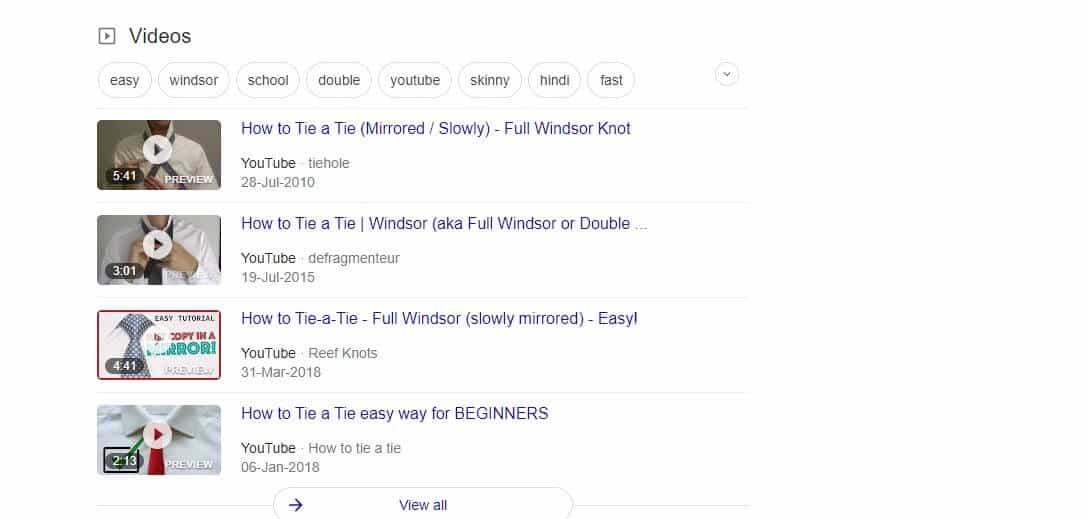 Videos, if helpful, can magically help in lowering the bounce rate. 
By keeping readers longer on your site. 
Suppose if you add a 7-minute video on your site and readers play it for, let's say, 2 minutes then this can still send positive signals to Google that people like spending time on your site. 
Therefore, adding videos to your blog can help you a lot. 
4- Email
Email Marketing is one of the best ways to build a loyal following. 
The loyal following is the subscribers in your email list. Even if they are 20 people.
Bloggers say that you should build an email list from the first day. 
And it's so right. 
Now, after one year I have a tiny email list to which I send emails and these are the people who make sure to check my blog posts. 
One thing that I learned recently is that your email subscribers are the people who would come back to read your content. 
Email marketing content types are an easy way to make money also. 
You just have to build trust with your subscribers and recommend products that they would like. 
5- Social Media Graphics
Social media is the type of marketing that you must use if you are a beginner blogger. 
Because getting traffic from Google takes time. So, if you are promoting your blog posts on social media then your blog grows much faster.
There are many types of social media platforms and so their contents. 
Therefore, you must choose one of two and create the best content for social media. 
Another reason is that getting traffic from Social Media is much easier than search engines. 
Hence it is worth trying. 
You can easily create content for social media using Canva (yes, I am a big fan!) And if you need stock photos here are my top picks. 
6- Podcast
Podcasts are very popular. 
People would always prefer to listen rather than read. 
I follow a lot of podcasts myself. I can be a novel reader but I hate reading long-form content. 
Therefore, I prefer podcasts. 
More, you can also register your podcast on Google Podcasts to get it indexed. 
7- Ebooks 
Creating ebooks can sound like writing a novel but it isn't. 
I know writing a novel would take decades (at least if I decide to write one!) so let me assure you this is not it.
I'm talking about a 40 to 50-page ebook. 
You can sell the ebook, check out other monetization methods, or give it for free (to your email list). 
Don't feel like writing an ebook? I have a solution. 
Find out your most popular blog post and convert it into an ebook. 
However, you can't sell it.
8- Quizzes
According to Rock Content, among the different content types, the best one is interactive. 
You are more likely to encourage a reader to take any action if you can grab his attention. 
And that you can do by creating quizzes. 
In quizzes, your readers also participate. Not all of them, always, but enough. 
Quizzes also help in finding more about your audience.
For example, if your blog post is about writing tips then you can create a quiz asking your readers about the part they struggle with. 
Most of your readers answered the keyword research process.
Then create your next blog post on that topic.
9- Checklists
Everyone loves checklists and cheat sheets. 
The best part is that these are those easy content types that can be created in 5 to 10 minutes. 
Again, you can use the free Canva tool to create beautiful checklists. 
I may not be sure of who your target reader is but one thing I am sure of is that they love freebies. 
You can collect emails in exchange for these freebies. 
For example, I have also included a few checklists in my email sign-up form. So, whenever someone signs up for it I send those checklists with 18 more free blog resources to their email addresses.
Here's how they can sign up.
How To Create A Content Strategy?
After you know the different types of content marketing it is also important to create a strong content strategy. 
Here's what you need to do step by step. 
1- Get A Blog Planner. 
To manage and keep track of your blog schedule you will need a blog planner. 
It also includes a section to make a content calendar for your blog. 
How Do You Generate Content Ideas? 
Don't worry, her planner includes this too.
2- Get The Best Content Marketing Tools.
You will need the top content marketing tools to create content for your site. 
What Are Some Content Marketing Tools?
Here's a list of the 21 best types of marketing tools for beginners. 
3- Create A Blog Content Strategy. 
What is a content plan? 
It is a roadmap that you would follow to produce results using all types of content. 
Every blog is different and so are its needs. So, I would advise you to create your plan accordingly. 
Here's a guide on forming a blog strategy.
Conclusion
Driving traffic from content is by far the best way. 
Because it doesn't require you to pay for promotion and is free. 
So, these were the 9 types of content for marketing and growing blog traffic. 
I hope you have creative content marketing ideas to spice up your blog posts so that your readers can't wait to share them.
You have to work with both. Blogging and content marketing. And it's beneficial. 
Make sure you are following all the content marketing best practices and you will start seeing results.
Because great content stays forever and brings results forever. 
I hope you found this post helpful. Follow me on Twitter, Facebook, and LinkedIn. Or why not subscribe to my newsletter and get blogging and writing tips straight to your inbox every week?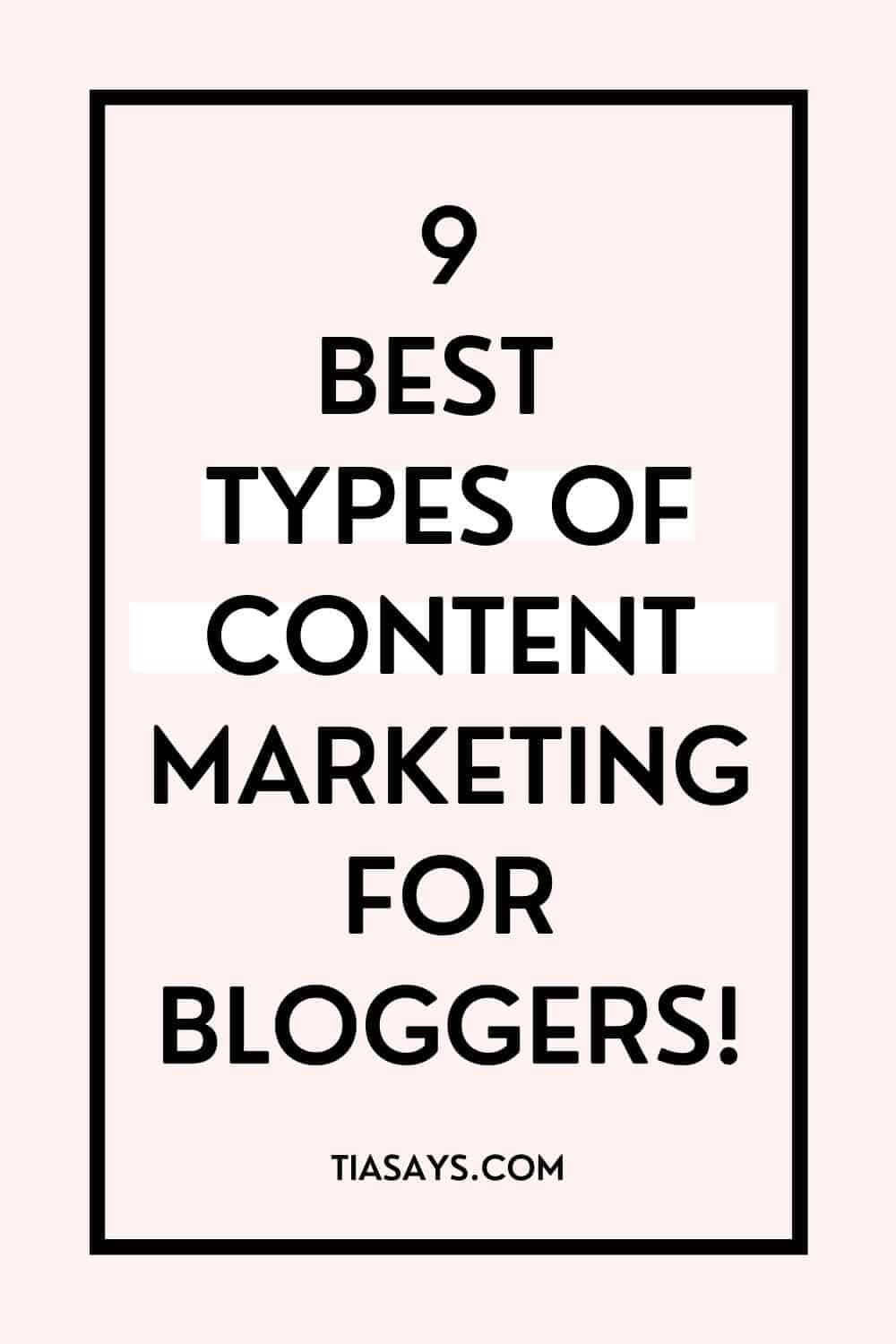 If you have any questions please let me know in the comments section. 
More posts to check out: