Overcoming writer's block is a struggle that every beginner has to go through. A simple way to do it is to write blog content in different types of blog posts. 
When I started my blog, I struggled to publish even 2 blog posts in a month. That's when I decided to get serious. 
Did a lot of research, prepared a blog content plan, and found a way to never run out of ideas for blog posts.
This post is, therefore, a list of types of blog posts that you can easily write, if not I'll also include sources to help you learn how to do it, and make blog post writing a lot easier for you. 
In the end, I will also tell you a trick to brainstorm blog content ideas to use in your blog post types. (Works every time for me!)
SOUNDS PROMISING? SAVE THIS PIN PLEASE.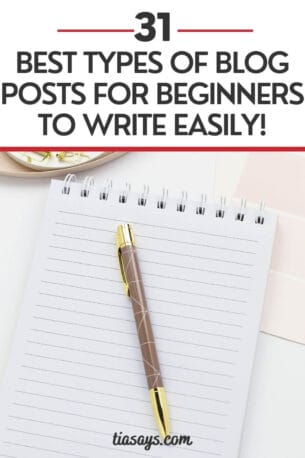 Without wasting time let's get straight to the blog post list.
This post may contain some affiliate links that is I may earn a small commission at no extra cost to you that I would use to maintain this blog. Thanks for understanding.
31 Best Types Of Blog Posts To Write On Your Blog
1- List Posts
List blog posts are the best type of post to start with because they are super easy to write. And these types of posts get popular easily. 
A list is a collection of similar types of things or when you want to tell your readers about the different options. 
One of the examples of a blog list is the 10 best web hosting services for bloggers. It is a list of various options for web hosting. 
Another example is 13 Essential WordPress Plugins For Bloggers.
How To Write A List Article?
Writing awesome blog posts isn't that hard when you are writing a list. Follow these steps to create a list. 
Choose an idea from your blogging topics. 
Collect all the ideas and write your blog post.
If you have noticed while searching on Google that some blog posts show extra information in the form of a list. These are called featured snippets.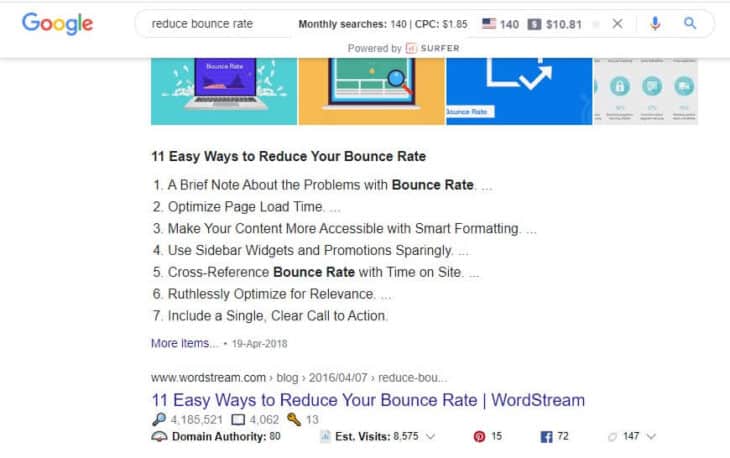 Learn more about featured snippets from this brilliant guide by Brian Dean. 
These positions get extra clicks on search results so make sure you are optimizing your lists for featured snippets. 
2- How-To Blog Posts (Tutorials)
Your readers love step-by-step tutorials because in these blog articles they learn how to do a thing. 
How To tutorials are long-form content. The purpose of this type of blog post is to instruct your readers to perform a task. 
My 3 step guide on how to start a WordPress Blog On Bluehost is an example of a how-to post. 
It walks you through the process of starting a WordPress blog on Bluehost. 
Tutorials are one of the most popular types of blog posts because they are extremely informative and helpful. 
Your readers love it when you walk them through step-by-step instructions.
How To Make A Good Tutorial? 
To create a great blog post make sure that you are adding every slightest detail to it. 
And don't forget to include images showing the instructions.
3- Infographics 
An Infographic is a visual representation of a piece of information. 
The main goal of an infographic is to provide information attractively without getting your readers bored. 
Here's an infographic that I created about types of content marketing for bloggers.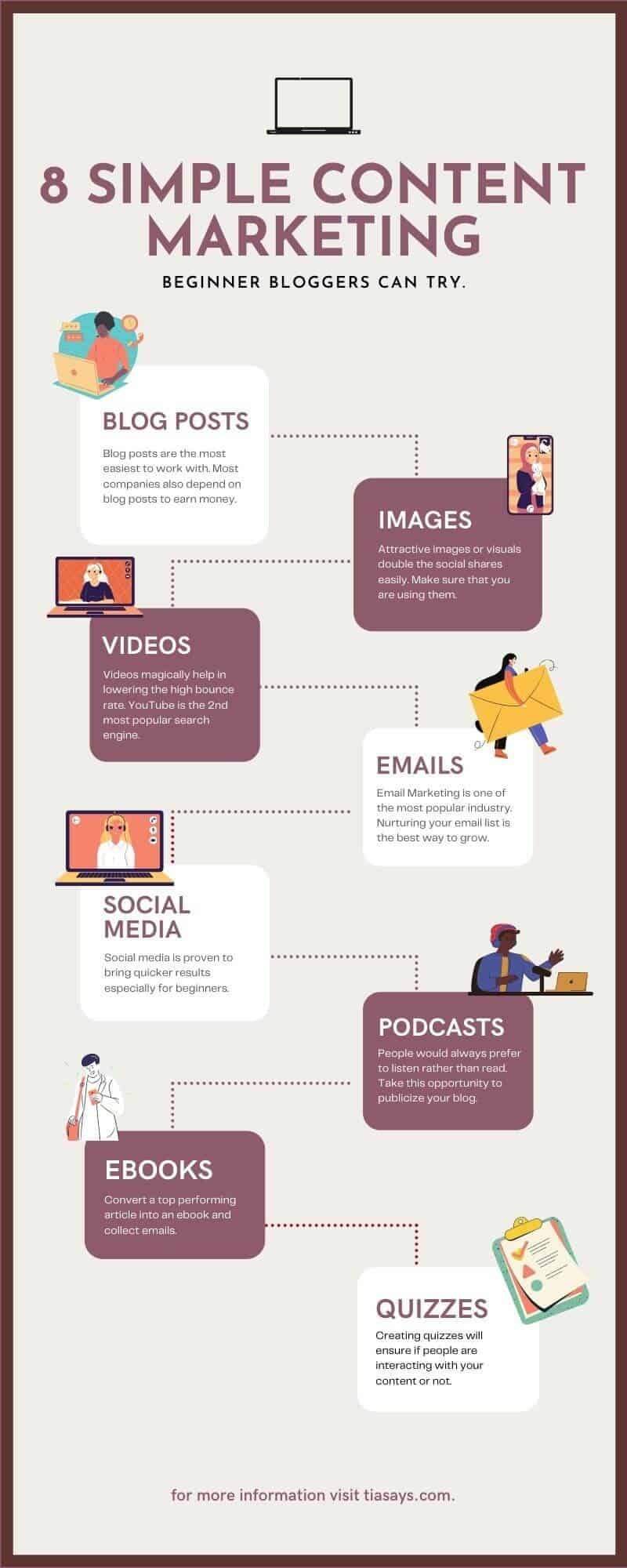 According to Neil Patel, infographics can generate backlinks. 
Don't forget to optimize images with SEO using these easy tips.
How To Create An Infographic? 
You can use premade templates on Canva to create quality Infographic or start from scratch. 
4- Beginner Guides
These are "introduction to something" posts. 
Beginner guides are written when you want to tell your readers about something that they might not be aware of. 
These guides are written to make sure that your readers get everything and don't have to go anywhere else. 
One such guide that I have written is how to start a money-making blog. 
I have written this post for beginners who want to start a blog and make money from it. 
These are the best blog posts if you want to build trust with your readers as such posts show them that you are an expert on this topic. 
5- Blog Series
Writing blog series is a way to keep your readers coming back to your site. 
Sometimes, a topic cannot be covered in one post therefore we create a series of blog posts to complete the topic. 
My Pinterest for blogger series is an example of blog series. 
I have published 4 blog posts that cover Pinterest basics to a reliable strategy. 
Blog series are ranked quickly because these posts are interlinked to each other. 
6- Expert Round-up
A Roundup post is one in which experts in a niche share their opinions on a topic. 
A round-up post is the best blog content to build brand recognition and gain quality backlinks. 
These posts, when done right, can be the easiest ones to create. You will have to choose a strong topic and email your favorite bloggers to express their views. 
Then you will combine all of the opinions in a blog post and make it public. 
After the post goes public you can ask the collaborators to share your post. 
Here's a guide on how to create an expert round-up. 
7- Glossary Posts
A glossary blog post is amazing when it goes public. 
However, it takes time to write a long glossary of something but it is worth the effort. 
Ryan Robinson's blog glossary is a good example to see this post in action. He has combined all the blogging terms in one place. 
Another great glossary is Wpbeginner's WordPress glossary. 
You can easily create a glossary type of post in your niche. 
8- Guest Blog Posts
You can start accepting guest posts on your blog if you don't want to write a post. 
Similarly, you can write guest posts for the most popular blogs in your niche. 
This way you will gain backlinks from quality sources and build a strong backlink profile. 
Here's a beginner's guide on Guest Blogging. 
9- Mistakes & Lesson Learned
This type of blogging content is loved by readers because in such types of blogs you are sharing the mistakes that you made. 
People want to be prepared so they read your posts to learn from your mistakes.
I wrote a similar blog post, it is the 13 dumbest blogging mistakes I made when I started. 
I have also shared what I should have done (to avoid those mistakes) and that's what my readers love to read. 
Similarly, you can create such posts, think of what you have learned from your mistakes.
10- Start A Podcast
Podcasts are popular. 
Your readers will always prefer to listen rather than read. So, if you think you can start a podcast then you should do it. 
Here's a great guide on how to start a podcast. 
Make sure you register it to Google Podcasts. 
11- Blog Reports 
You might have seen many bloggers publish their monthly income or traffic report. 
Michelle Gardener Schroeder from Making Sense Of Cents publishes her income reports. 
These blog types are not to brag about but to show how they did it and how you can too. 
It's not necessary to publish a blog income or traffic report, if you have tried something new and seen some results then you should do a blog report and tell your readers about it. 
12- Latest Industry News
Whichever industry you are in if there are any recent updates or announcements and you think your readers should know about it then write a blog post. 
Exactly the way Search Engine Journal did it when Google announced the new Core Web Vitals algorithm update. 
13- Controversial Posts
There is always a way to have a spicy opinion on a fact or news. 
Controversies get viral easily. If you can write without getting into problems then you should write it. 
However, don't add fake news or anyone else without getting their permission. Try this one when you have tried other options.  
A guide on writing controversial posts to learn more about them. 
14- Checklists 
If there is a long process of doing something then create a go-to checklist for your readers so that they can have everything in one place. 
Such as the SEO checklist 2021 by Brian Dean from Backlinko. 
I refer to this checklist to make sure that I am following good SEO practices.
15- Profile Blog Posts
If you follow someone (an expert) in your blog niche and also want your readers to learn from him then a profile blog post is perfect. 
For example, I follow Neil Patel, who is known for digital marketing so I can write a profile post to let you know about him and what he teaches. 
16- Reviews
Affiliate Marketing is one of the ways to make money blogging. 
You can write product reviews ( that you use) and place your affiliate links to earn money. 
Check out this guide to learn more about writing product reviews.
17- Repurpose Old Posts
If you can't think of anything new then you can always repurpose your old blog posts. 
Some of the easiest ways to do it are
Updating old posts.
Adding an infographic.
Including videos. 
18- Current Events
Current affairs are the blog types that have chances of getting viral easily. 
The reason being the information is not published before anywhere else. And if it is something that your readers care about then it can get popular easily. 
Find out current news in your industry and write a blog post. 
19- Comparison
Just like product reviews, you can write a comparison between two similar products to tell your audience which one is better. 
A perfect example of a comparison post is this blog post by Ahrefs. 
It compares all the features of the Semrush, Ahrefs, and Moz tools and gives a conclusion why Ahrefs is better than the others. 
20- Interviews
You can arrange an interview with your fellow blogger and publish it on your blog. 
Many bloggers do it for example Angela interviewed her friend Chaitra. 
21- Resources
One of the best blogging ideas is to create a resource library of your favorite tools or products that you use. 
I have created a blog resource library for my readers to find tools that can be helpful for them. 
22- Inspirational Stories
Writing inspirational stories is a top blog topic to work with. 
You can easily connect with your audience if you can inspire them. Think of all those situations when you learned something and write an inspiring post. 
23- Quizzes
Writing interactive content is a way to have an engaging audience. 
One of the quickest ways to do this is to publish quizzes. You can easily tweet a poll on Twitter and ask your followers to participate in it. 
Once you have got results you can create a blog report.
24- FAQs
Your audience has a lot of questions. 
To win them you can create a FAQ post to answer their common questions. 
You can easily find such questions in the "people also ask" section. 

Make sure that it contains common questions related to one topic.  
25- Cheatsheets
Do you have a secret process of something? It's time to share it with your readers. 
You can also create a signup form and collect emails by sending your cheat sheet to the new subscribers. 
26- Best Of Something
Do you use a product? Or a trick? Why do you love it more than others? 
You can create a best of products or tricks blog post and tell your readers why you love using it. 
This way you will build a trustworthy relationship with your readers and the next time if you share an opinion they will not hesitate to buy from you. 
27- Myth vs Facts
You can create a blog post that clears all the myths in your blog niche. And you can combine it with facts to give it more weight. 
Compile a list of common myths and facts about something and give it a funny conclusion. 
28- Recycle Old Posts
How many times do you update old blog posts? If you don't then it is a very important thing to do. 
Google loves websites that provide fresh information. 
So it may not be the right time to write a new post but update an old one. 
29- Your Way Of Doing Something
You can share your method of doing anything with your readers to let them find an easier way. 
For example, I shared my 3 step formula for writing catchy headlines. 
You can also write a blog post doing the same. 
30- Expert Opinion
I'm sure you have doubts. We all do. It is time to make it your next blog post opportunity.
Ask a question from your favorite blog and publish it in the form of a blog post. 
Just like Ell did, she published a blog post about legal blogging in which Amira Irfan, a professional lawyer, shared her tips. 
31- Videos
Videos are very popular. People love watching videos. 
Do you know YouTube is the second most popular platform after Google? 
Therefore, adding videos to your blog posts will help you boost your rankings. 
So these were some of the best types of blog posts for beginners to drive blog traffic. 
But for that, you need a strategy. 
Prepare A Blog Content Plan
Before having a blog plan, I struggled to publish even 2 blog posts in a month. 
Always worried about what to write in a blog or what I should blog about. And then started regretting my decision of starting a blog. 
But I needed an approach. I learned about types of blogging and the importance of having a blog plan. 
Now, when I follow a strategy for my blog I can do these things easily. 
Create blog content when necessary.
Have a blog topic list made for upcoming blog posts. 
Update old blog posts. 
And more. 
Therefore, having a blog plan can help you in so many ways. 
I have a step-by-step guide on planning a blog strategy. 
It will help you find the most popular topics for blog posts. 
And here are some tips for writing a great blog post. 
These articles will help you create the type of blog content that brings traffic. 
The Yearly Blog Planner
If you need a blog planner to follow your blog schedule religiously this blog planner is a great option.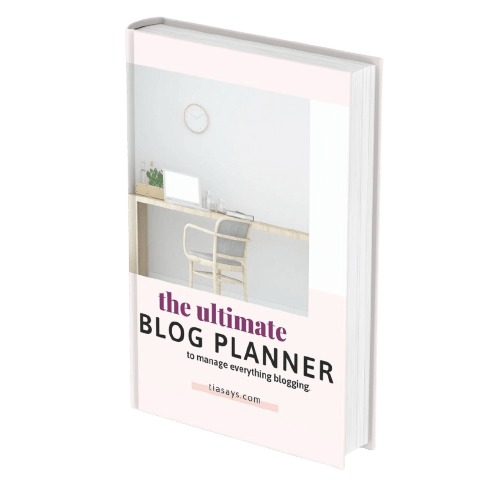 Conclusion
So these were the most popular blog post types that you can easily write on your blog to grow blog traffic. 
You must have heard a quote in blogging. "Content is King." 
Therefore, every blog post should be written to help the reader. 
And the best way to achieve that is to keep writing content until you identify your blogging style. 
Once you find it then you can always make a few changes to update old content. 
Match these different blog post types with these 150+ blog post ideas.
If you have any questions please let me know in the comments section. 
I hope you found this post helpful. Follow me on Twitter, Facebook, and LinkedIn. Or why not subscribe to my newsletter and get blogging and writing tips straight to your inbox every week?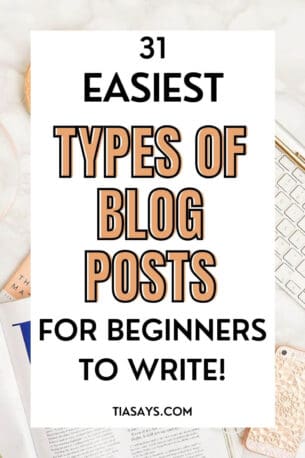 Have you written any controversial posts before? If not, do you plan on writing?