Starting a blog is one of the best ways to make money online even if it's a side hustle. I always encourage more people to start a blog. However, if you don't have proper knowledge it can go wrong. This post is therefore a bunch of things to know before starting a blog.
It is a list of things I wish I knew before starting a blog.  
As I understood their importance later, I regret the time I wasted figuring them out.
Therefore for you, these are what you should do before starting a blog so that you can start it the right way. 
Keep reading this post till the end as with each step I will share some tips to help you become a blogger who is also successful.
SAVE THIS PIN PLEASE. 
Without any delay let's begin. 
10 Important Things To Consider Before Starting A Blog
Here are the 9 crucial things you should do before starting a blog.
Research Everything 
Proper research before doing anything can give you a lot of returning blog readers.
Research is a very important part of a blogger's journey. It is the first step of turning an idea into a unique blog.
A well-researched blog post is what your readers want to read. It should be full of helpful information and not randomly drafted. 
Another point is, you will know how things work if you research them and try things on your blog.
When I started my blog I wasn't thinking this way and I wasn't accustomed to researching everything. 
However, when I realized that in blogging everything involves a process I had already wasted more than 6 months. 
So make it a habit. 
The Internet is full of information and as bloggers, we are required to use it to learn new skills. 
It will also help you understand how things are working for other bloggers so you can also adapt them. 
Research. Is. Important. 
Blogging Takes Time
This was one of the false assumptions I made when I started my book blog. 
Blogging is not a get-rich-quick scheme. 
It takes time to build a blog brand. You will have to publish a lot of helpful content to build trust with your readers. 
Why is it important to build trust with your readers? 
Over time when you promote your products and if your readers trust you then only they will buy from you and that's how you will earn money.
Don't expect to get quick results. 
How Long Does It Take For A Blog To Become Popular? 
For Google to pick your site, it will take 3 to 5 months when you will start getting blog traffic. 
However, Social Media is a fast way to get blog traffic. We will discuss it below.
But it is so worth it. All you need to do is to keep yourself motivated. 
How To Keep Yourself Motivated?
I have a to-do list for my blog. Before going to sleep I make a list of tasks to be done the next day. 
When I wake up I do my best to complete my to-do list. 
You can also follow the same process. 
It Takes Time To Make Money Blogging 
Becoming a blogger for money-making purposes isn't difficult. 
It is achievable. However, it takes time.
For instance, I have recently started making money from my blog. It was after 6 to 7 months when I monetized my blog and after 11 months I made some money.  
I say it is achievable because of multiple ways to monetize a blog. If one method didn't work out for you, go with others.
In the above-mentioned point, I gave you an example of why it is important to build trust with your readers. 
As I said, you have to build a brand identity that most people want to follow. 
How long does it take for a blog to make money? 
Once you start seeing regular traffic on your blog and implement different ways to monetize it you will start making money. 
There isn't any fast way to make money blogging. 
However, over time when you have established yourself as an authority site, more people will listen to your recommendations. 
Set Your Blog Goals
Setting your blog goals will help you track your blog growth.
But wait, how to write "blog goals" when you have no idea? I can feel you, that's exactly how I was feeling when I started. 
That's why here are some examples of blog goals I have collected for you. 
Get 1000 blog views. 
Publish 15 blog posts.
Get 10 email subscribers.
I have given these examples as these are blog goals for beginners. You can modify them.
So, how to measure your blog performance? 
If you have completed your first-year blog goals then you are doing well. 
However, you can also adjust your blog growth strategy as you will be learning a lot of things in the meantime.
Follow A Blog Strategy
Once you have written your blog goals you have to create a blog strategy for your business. 
Developing a blog strategy is one of the smartest moves of a beginner blogger as not many beginners are that serious in their first year.
If you need help in planning your blog strategy check out this post.
Planning your blog content before helps a lot. This way you are saving a lot of time and finding the best content for blogging.
But, how to plan blog content?
Here are some questions to ask to plan a blog content strategy. 
The number of posts per month. 
Topics on which you would write. 
Keyword research. 
Pro Tip – Blog planning will help you not divert from your niche.
Focus On Blog Branding
You want your opinion to be followed. That's how a brand feels. 
What is a brand? 
A brand is something/someone who is an expert on a certain topic and people listen to them. 
You are more likely to make money if there's a group of people who read your posts and trust your opinion.
How To Build Yourself (Your Blog) As A Brand? 
Branding is not only colors and a beautiful theme (it is also important) but it is how your story resonates with your blog. 
Your personality will reflect in your blog name, writing style, blog design, logo, and so many other things.
How do you present yourself in front of your readers? 
How well do you respond to their emails? 
Why are you unique?
Why should your readers believe in you?
Firstly, you have to create a trustworthy environment for your readers then only expect them to trust you.
Also, by publishing helpful information regularly. 
I know when I started my blog it wasn't making sense, but I focused on providing valuable information. 
Now I receive emails and comments from my readers that they find the information helpful. 
I plan on doing the same as this is an important part of a long-term growth strategy.
Keep providing an honest and valuable opinion and over time you will become a brand.
Learn SEO
What is Search Engine Optimization (SEO)?
SEO is a process of optimizing a website to get it to appear on search results for a keyword term. 
You will have to learn SEO to get your blog posts ranking on Google. 
It will help you drive organic traffic to your blog. 
However, you don't have to learn it now. The best way to learn SEO is to learn tricks and implement them on your site. 
One thing I want to mention is that SEO takes time so you should not expect quick results. I tried it on my site and started hating SEO because it didn't get me "quicker results" that I was expecting. 
Then I ignored SEO for 3 months when I noticed that one of my blog posts is ranking on Google. True story. Of course, I started learning SEO.
Therefore it takes time but it is worth it. 
Here's a beginner's guide on SEO by Moz if you want to start it. 
Learn Social Media Marketing
You can't just rely on Google to drive traffic to your blog especially when you know that it takes time. 
Therefore, for building an audience you should utilize social media. 
Getting social will help you get your posts in front of a lot of people. 
This is the power of social media marketing. Head over to this post to learn how to use social media to grow your business.
Join A Blog Community
I know you must be feeling overwhelmed by all of this. 
However, I have something to cheer you on. 
Introducing you to the amazing blogging community.
The blogging community is where both big bloggers and beginners come together to discuss issues. 
It is where people ask questions and people answer them. It is one of the reasons to start a blog.
I am proud to say that the blogging community is very helpful. I have met so many amazing bloggers till now and some of them have become my close friends. 
During my blogging journey, I have had so many questions and whenever I needed them these awesome bloggers helped me. 
Or whenever I needed support when I was launching something new they were always there to appreciate me. 
So you can always ask questions if you need any help. 
Buy An Established Blog
Yes, if you don't want to build a new blog from scratch and grow it then you can also buy an already established blog.
This way you can avoid some things like building content, target audience, and more. And you can focus on your goals.
Head over to this guide to learn how to buy a profitable blog.
Bonus Tip – 
It is all about helping people. Keep your readers first while writing blog posts and ask yourself if your blog post is helpful for your readers or not.
And, a bonus resource of free blog tools that I created to help new bloggers like you grow your blog.
Conclusion
So these were 9 things to know before starting a blog.
I'll be updating this list regularly as I find more things to add or should I say I realize more of my mistakes. Lol. 
You will discover so many things as you grow (I still do!) but these tips are enough to give you a great start.
I'm sure you are all prepared to start a blog. 
I love blogging because it is a way to learn and try tricks at the same time. I find out things and then try them on my blog. You don't have to be perfect. Just motivated.
From here, I have two great options for you. 
Follow this step by step guide and get a WordPress blog on Bluehost. 
Or let me help you start a blog for free. 
I hope you liked this post. 
If you have any questions about blogging please let me know in the comments section. 
I hope you found this post helpful. Follow me on Twitter, Facebook, and LinkedIn. Or why not subscribe to my newsletter and get blogging and writing tips straight to your inbox every week?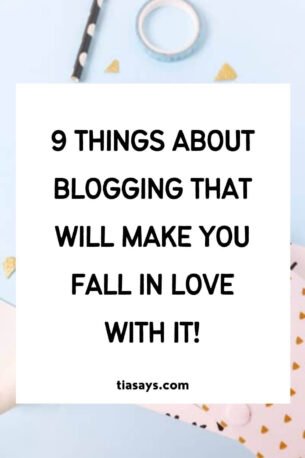 Check out these best blogging courses for beginners to grow your blog.