With thousands of WordPress themes out there, picking one blog theme is overwhelming. This post is therefore a guide on how to choose a WordPress theme for beginners to help you choose a perfect WordPress theme.
When I started my blog I made the same mistakes as most beginners do. Picking a fancy looking WordPress theme. 
And then tried several themes to get the best one. 
Although, the look of your website is important but to a very little extent. Many other factors should be checked before finalizing a theme for your website.
Therefore, I thought I should create a guide for beginners to help them in selecting a WordPress theme that matches their blog as well as its content. 
Make sure you read the post till the end because I will be giving you my top picks for the best WordPress themes for blogs.
SAVE THIS PIN PLEASE.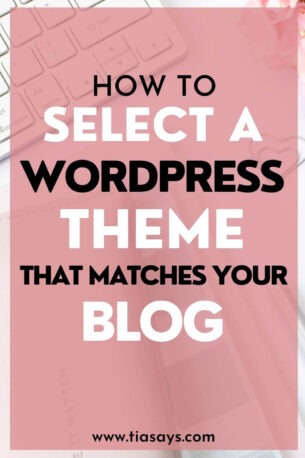 This post may contain some affiliate links that is I may earn a small commission at no extra cost to you that I would use to maintain this blog. Thanks for understanding.
So, here it goes. Let's first cover some basics.
What Is A WordPress Theme?
A WordPress theme is a group of folders that are used to change the look of a website. Themes are used to design the appearance of a website to make it more functioning and provide a better experience for visitors.
There are thousands of WordPress themes that are created and uploaded by theme designers. 
You can choose your blog theme from them or upload your own.
If you don't know how to install a WordPress theme here's how you can do it.
How To Install A WordPress Theme?
You can install a WordPress theme by going to the sidebar options on your WordPress dashboard
Appearance > Themes > Add New. (If you want to choose from WordPress themes)
Appearance > Themes > Add New > Upload Theme. (If you want to upload your theme)
Once installed, you will want to make some changes to it to match your brand. If you don't know how to customize a WordPress theme this is how to do it.
How To Customize A WordPress Theme?
You can customize a WordPress theme by going to 
From there you can make changes to your website and design it the way you want.
Now that you know how to install a WordPress theme it is time I tell you why choosing a wordpress theme is important.
Why Is It Important To Choose The Perfect Blog Theme?
Picking a theme is one of the important tasks for a beginner blogger. If done right it can save you from a lot of stress. 
A bad blog theme can 
Drastically reduce the speed of your site. 
Create unwanted files and increase the disk size.
Destroy the look of your site.
Make plugins not work properly.
And more.
All of this in return will provide a bad user experience. 
While a good blog theme can 
Increase your search rankings.
Make your site load quickly.
Design your site professionally.
And more.
I have had so many themes changed because of this. But I have found my theme. 
However, I highly recommend you do not change your blog theme frequently. Instead, find a blog theme that suits your blogging needs and use it only. 
Moving to different blog themes can break your site. 
So, here is how to choose a WordPress theme for your website.
How To Choose A WordPress Theme For A Website? 
The first thing you can do is to make a list of all the things that you want your theme to be.
If you can't think of what you want now here are some of the factors you may want to include in your list.
1- Identify The Type Of Website.
Different types of websites have different needs. And all of them perform different functions.
For example,
Landing pages – To display a product or service.
Blogs – To share information. 
Portfolios – To display samples of your services, etc.
For each type, there are blog themes available. 
Therefore, you should identify the type of your website and then choose from the options. 
Why I added this to the list is because I have a story behind this. 
My blog is about blogging but, I selected a theme that was designed for a hospital website. So, it added unwanted features to my site. And I had to fix a lot of things.
Therefore, be sure to identify the type of your blog (website).
2- Simple Is Better.
There are so many fancy themes out there that can design your site well.
However, the problem with such themes is that they have a lot of CSS files and more files are added when you customize your theme. 
Many blog themes have a lot of colors, layouts, features and it is very easy to believe that you need them. However, you don't. 
Most of these themes are poorly coded and whenever your site is loaded by a user all of these files also load. 
This is how your site speed increases. And this is how your site disk is filled with unwanted files.
Another reason is, a simple theme is much better than something fancy. 
It is your readers who you should prioritize before designing your site. 
Keeping things simple will help you attract more people. Simplicity wins everywhere.
3- Make Sure It Has Easy To Read Fonts.
Never choose a theme that has script fonts. No matter how beautiful they look.
Because these fonts are hard to read.
Again, the purpose of your website is to serve information to your readers and if they find it hard to read what your site has to offer they will leave your site. 
Then no one would care about your beautiful design. 
Therefore, easy to read font is a must.
The best is to use Google Fonts. These are free and great to use.
You can choose anyone from them and keep it as your default font. 
4- Easy To Customize.
Before finalizing a theme go to the customize option to check out the options. 
If you find them easy then it can be your new blog theme. But if it has complex functions then you should leave the theme immediately. 
I was using OceanWp, the theme is amazing but it has a lot of complex settings to customize the theme. 
For me, as a beginner, it was hard to customize all the options as I was always worried that I may break my site. Not a good experience. 
It was one of the reasons why I had to switch from it. 
Therefore, make sure to check the customization settings before choosing a theme. 
Also, if you are buying a wordpress theme then check out youtube videos to see if the customization process is easy for that theme.
The good news is many wordpress themes are easy to customize so you will find one that has an easy customizing process. With a few changes, it can happen.
5- Make Sure It Is A Responsive WordPress Theme.
Google once rolled out an update stating that mobile-friendly websites will be prioritized for higher search rankings. 
Therefore a mobile responsive site is a must.
Fortunately, there are many responsive themes in WordPress. 
You can find out if your theme is responsive in two ways. 
Go to the landing page of your selected theme and find out the features section. There it will be mentioned. 
Take the Google Mobile-Friendly Test. 
Once you have found your WordPress theme you have to ensure that it is mobile responsive. 
It is also important because many visitors use mobile devices for common queries so your site must provide a better experience on mobile devices. 
Is your website responsive? Make sure it passes the mobile responsive test. 
You will have to do it. 
6- Loads Fast. 
Improving your site speed is now a necessity.
Especially after the Core Web Vitals update. Last year, Google announced that Core Web Vitals are going to be a ranking factor. 
Therefore, it becomes the duty of your theme to load your site extremely quickly. 
Remember, I told you above that I used the OceanWp theme. 
Although it was a great theme, I noticed that my site speed started getting worse. 
Then after a lot of research, I switched to the Astra Theme and my site speed improved. Find out if Astra is for you?
Now, it is not perfect (1.5 seconds) as I don't know how to fix broken javascript and many other technical things but it is much better than OceanWp.
The Astra theme is a lightweight theme coded keeping speed in mind. 
There are many fast loading WordPress themes. 
7- Make Sure It Is SEO Friendly. 
An optimized WordPress theme that is designed with SEO can help your site climb higher in the search rankings. 
I know it sounds like a dream. 
Getting higher rankings because of a blog theme. 
But it plays a part. 
An SEO-friendly theme may not be the only responsible factor for getting higher rankings but a non SEO theme will lower your organic presence. 
Therefore, add to your list that your WordPress theme should be SEO friendly. 
Astra Theme is an SEO-friendly theme and one of the best WordPress themes. 
8- Consider WordPress Premium Themes. 
There are many free themes available but premium themes are also a good option. 
Is It Worth Paying For A WordPress Theme? 
A premium theme is always a step forward than a free theme (unless the free theme is popular). 
Because these themes are designed by a theme developer and they provide premium support. 
So, as a beginner, when you are scared to touch codes, their customer service can become handy. 
They will fix your problem without you breaking anything. 
The DIVI theme is an amazing premium theme and a choice of many bloggers. 
9- Check Customer Support
If you are considering purchasing a premium theme then check out their customer services. 
You want such support that will help you 24*7 if something goes wrong. 
To do this, you can check out the customer reviews of that theme. 
If you aren't satisfied you can search on Google about it. 
But be sure to pick your theme from a reputable source. 
Like, Avada Theme from the Themeforest. Avada is a choice of many businesses online. 
10- Check Updates
Another important thing to note before finalizing a WordPress theme is its update frequency. 
How often the theme is updated? Check the last theme update. 
This way you will make sure that you are choosing a theme that is updated regularly and it will work best for you. 
11- Install Child Theme. 
This is a pro tip actually and a lesson learned. *Guilty*
When I started blogging I installed a theme and customized it. 
However, when I updated my theme all the theme's modifications were lost. 
It was because whenever a theme is updated the old files are changed to new files and so all the changes are lost. 
Using a child theme is helpful for such situations. 
With the original theme, you will install its child theme. 
So, you make changes to the child theme and update the main theme. This way changes are not lost and the theme is updated. 
How To Install A Child Theme In WordPress? 
With your premium theme, you will get a child theme also. You can upload the zip file on WordPress. 
However, not every free theme has its child theme. 
For that, you can install a WordPress child theme plugin.
Remember to customize the child theme and update the main theme. 
These were all the factors to include in your list. 
Conclusion
So this is how to choose a WordPress theme for your blog. 
I hope you now have your list and know how to choose a blog theme for your website. 
I know it can appear nonimportant but I have learned my lesson. 
Therefore, I want you to do research and find your perfect blog theme and stick to it. 
From here you should check my picks for premium themes for WordPress. 
I'm sure you'll find something great there. 
If you have any questions please feel free to ask me in the comments section. 
I hope you found this post helpful. Follow me on Twitter, Facebook, and LinkedIn. Or why not subscribe to my newsletter and get blogging and writing tips straight to your inbox every week?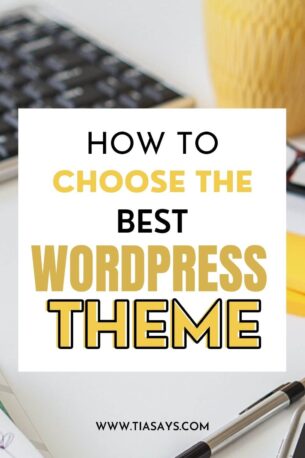 What theme is currently installed on your site? Do you like it?