Having a bunch of blog posts that bring traffic all the time of the year, isn't that great? That's what is evergreen content. 
If you are wondering how to get organic traffic it is by ranking your evergreen content in Google. 
If this is something you would like to have then keep reading this post as you are going to learn everything you need to know to create evergreen content on your blog. 
You will learn what and how to write evergreen content. 
SAVE THIS PIN THEN.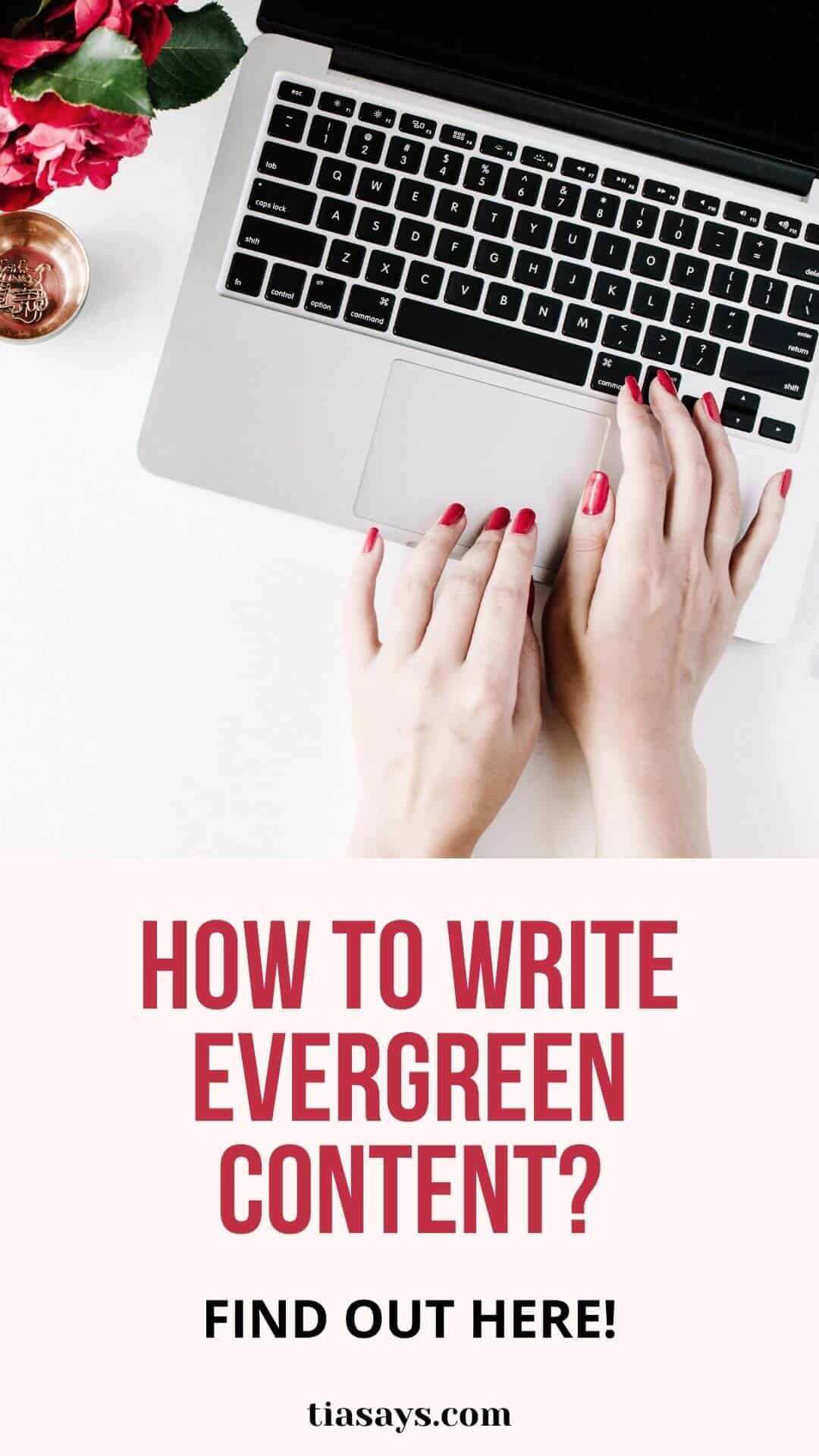 Let's begin. 
What Is Evergreen Content? 
Evergreen is the word for something that lasts. So the definition of evergreen content for a blog would be those blog posts that remain evergreen every time of the year. 
Meaning, the information on those blog posts is helpful all the time. 
Examples of evergreen content on my blog are
So you noticed both of them are informational guides and the information in them is valuable to anyone who wants to read it. 
Types Of Evergreen Content
But informational guides are not the only type, there are many more blog types of evergreen content.
You can find out other 31 evergreen blog post types and combine them with an evergreen idea to create your blog content. 
Now that you know what is an evergreen post let's learn what it is not. 
What Isn't Evergreen Content? 
Evergreen content is something that lasts so what isn't evergreen is that dies out soon. 
For example, news articles or fashion trends, these types of content can't be referred to as evergreen articles. 
Because the information is always changing. A fashion style that is trending now might not be old in a few days. 
But if you write about history (weird choice right!) then one thing that you know for sure is that the information isn't going to change. 
The thing is there are evergreen blog niches. Some niches are easier to produce content that is not likely to change. 
For example, technology changes so quickly that it is a hard niche to write such content. 
But if you are in a lifestyle niche then that's a good example of an evergreen blog niche. 
RELATED – 
When we will discuss the tips to create evergreen content I'll tell you more ways to make sure that you aren't writing seasonal content. 
Keep reading. 
Why Is Evergreen Content Important?
There are many benefits of writing evergreen blog posts. Below is a list to name some. 
1- Improves Overall SEO
By writing long detailed posts on your blog you are doing your site a favor. 
Google loves to rank long SEO articles that are optimized. 
An average page ranking on Google is 1500+ words long. So aim for this word limit while writing an evergreen blog post. 
Long form articles that are detailed in every sense present a better user experience because your reader finds everything in there. He does not have to go somewhere else to look for the same information. 
That's why I say that you write detailed articles. 
Download the SEO checklists that I use to make all of my blog posts search engine friendly. 
2- Grows Blog Traffic
Over time when your posts start ranking you will start gaining traction from the Google audience. 
That's what you want. But it takes time to rank. 
In the meantime, you can promote your evergreen posts in other ways and get some eyeballs to them. 
RELATED – 
3- Helps You Build An Engaged Target Audience
All your efforts come down to sending the right message to the right audience. 
You must have an audience who listens to your advice. That's when you have succeeded in blogging. 
A way to do this is by publishing valuable content that helps. Evergreen blog posts help you build that trust. 
By publishing helpful guides you give them a reason to trust you. 
RELATED – HOW TO DETERMINE WHO YOUR TARGET AUDIENCE IS?
4- Build Authority Overtime
Over time you will publish valuable content that your readers will like and you will build an authority site. 
How To Plan Evergreen Content Marketing? 
Ideally, if you want to get Google traffic you should create blog content that is a mix of both. Evergreen content and seasonal content. 
SEO has evolved so much. And one thing that I have learned so far from these changes is that Google wants to rank aged content. 
The content has been live for a good amount of time. I think 6 to 12 months. 
That is possible only if you write content that stays relevant for that time. That's what's evergreen content does for you. 
So you create an evergreen content strategy for your blog and write content to rank it on Google. 
So if you publish 4 to 6 blog posts per month then aim for 2 evergreen articles. Think of whatever works best for you. 
But keep pushing out those informative posts to get them ranked on Google. 
And follow these steps below to create evergreen blog posts. 
How To Write Evergreen Content? 
If you want to write evergreen posts for your blog then below are the steps you need to follow. 
1- Find Evergreen Content Ideas 
The first step is to find topics to write about. These topics can't be anything but ideas that validate they are evergreen. 
For example, you can't write about the industry news and call it evergreen. Just because they would not be. 
While defining evergreen content I told you that it lasts so you need a topic that is going to last. 
I started with how-to guides. I knew that there are so many guides on how to start a money making blog but I still published one. 
 It is because it is a perfect example of evergreen information. And I hope that it ranks on Google someday.
So how do you find evergreen content ideas? There are many ways to do that. 
The first place you want to check is other blogs in your niche. Find out the informational guides they have published and these are going to be your evergreen content. 
But better. 
You can also use Google Trends or Buzzsumo to find out ideas that are trending. But I don't find them very useful in this case. 
Because I don't aim to get traffic now. I want them to rank and that takes time. And an idea that is popular now might not be after some time.
Or you can steal my ideas and convert them into yours! Grab the free evergreen content ideas list here.
2- Find The Right Keywords
Once you have found an awesome idea for your evergreen post it is time to find some great keywords for it. 
You should be aiming for long tail keywords that are less competitive and highly searched. 
You can use whatever tool you want to use for keyword research. 
Just aim for those long tail keywords. Going for a short term with high competition isn't going to help you at all. 
All you need is my guide on finding low competition keywords with high search traffic.
3- Create An Outline For Your Post
Now is the time to create the best outline for your blog post. 
I called it the best because your blog post is going to be the best out of all those ranking on the first page of the search results. 
That's when you can think of outranking them. 
So what to do? 
Go through each post on the first page and find out the topics they are covering. Then create your outline. 
Make sure you don't copy someone. Always add your elements to give them more value. 
Refer to this post if you need help in structuring your blog posts. 
4- Write Your Blog Post
After you have created the best structure of your evergreen blog post it is time to write your post. 
You want to write an extremely detailed blog post that covers everything. 
Some blog posts that would help you are linked below. 
Please also check the next section to find out tips to make sure you are creating evergreen content. 
5- Add Images And Videos
This step is important. 
Over time I have realized that images do help in SEO. That's why I have started using images in my blog posts. 
Videos are even better. 
So make sure you create images for your blog post and use them. 
You can also use stock images if you don't have time to create images. Here are 4 websites to find affordable images. 
6- Optimize It For SEO 
Now you should optimize your blog post for SEO. This is the way you will send signals to Google that I want you to rank this post. 
So how do you optimize a blog post? 
I wrote a guest post on Anastasia's blog that covers exactly what you need to do to optimize your content for SEO. 
Check out this post and learn how to optimize your evergreen post for SEO. 
I also hope you have downloaded the checklists. I use the same checklists on my blog posts to make sure they are optimized for search engines.
7- Keep Updating Your Evergreen Blog Post
This is the most crucial part of keeping your content evergreen. 
Nothing lasts forever. Not even information. 
Therefore you should always update your published blog posts to keep them fresh. 
Google prefers old content. 
Not only because it is old but also because these posts are regularly updated. 
So after publishing your post keep an eye on them and update it regularly to push it higher on search results. 
That's how you push your blog posts on 8 or 9 pages to the first page. By constantly updating them. 
Tips To Keep Your Blog Content Evergreen
These are the tips I want you to follow to make sure that you are writing evergreen content. 
1- Update Your Evergreen Content Every 2 to 4 Months
This one is crucial. I've already told you above. 
But the question is how often should you update them? 
I think it is every 2 to 4 months. 
Well, it also depends on the number of posts your blog has. If you have more then you can't update all of them this soon. 
So it depends on how you are comfortable doing that. But the important part is to update your posts. 
2- Don't Add Dates And Statistics
Do not add dates or stats or something that changes quickly. 
That would not qualify it as evergreen information. 
3- Add FAQs
Add an FAQ section in your blog post to answer common questions that your target audience might be asking. 
To find out these questions check out the "people also ask" section on Google SERPS. 
Or use the tool Answer the Public. 
Conclusion
So this is how you write evergreen content for your blog. 
Whether you are a new blogger who wants to get organic traffic or an old blogger who wants to increase organic traffic, creating evergreen blog posts is a way to do that. 
The best part about blogging is that everything you do can be edited easily. 
So for now you should focus on creating timely content. Once it gets indexed then you should edit it and optimize it to get it on the first page. 
That's how you increase organic traffic. 
A thing to remember is that it takes time. I learned SEO writing after so long and I'm sure there's a lot more to learn. 
Plus it's evolving so the best we can do is to figure out how to make things work. 
But the efforts you put in now will reap results later. 
I hope you found this post helpful. Follow me on Twitter, Facebook, and LinkedIn. Or why not subscribe to my newsletter and get blogging and writing tips straight to your inbox every week?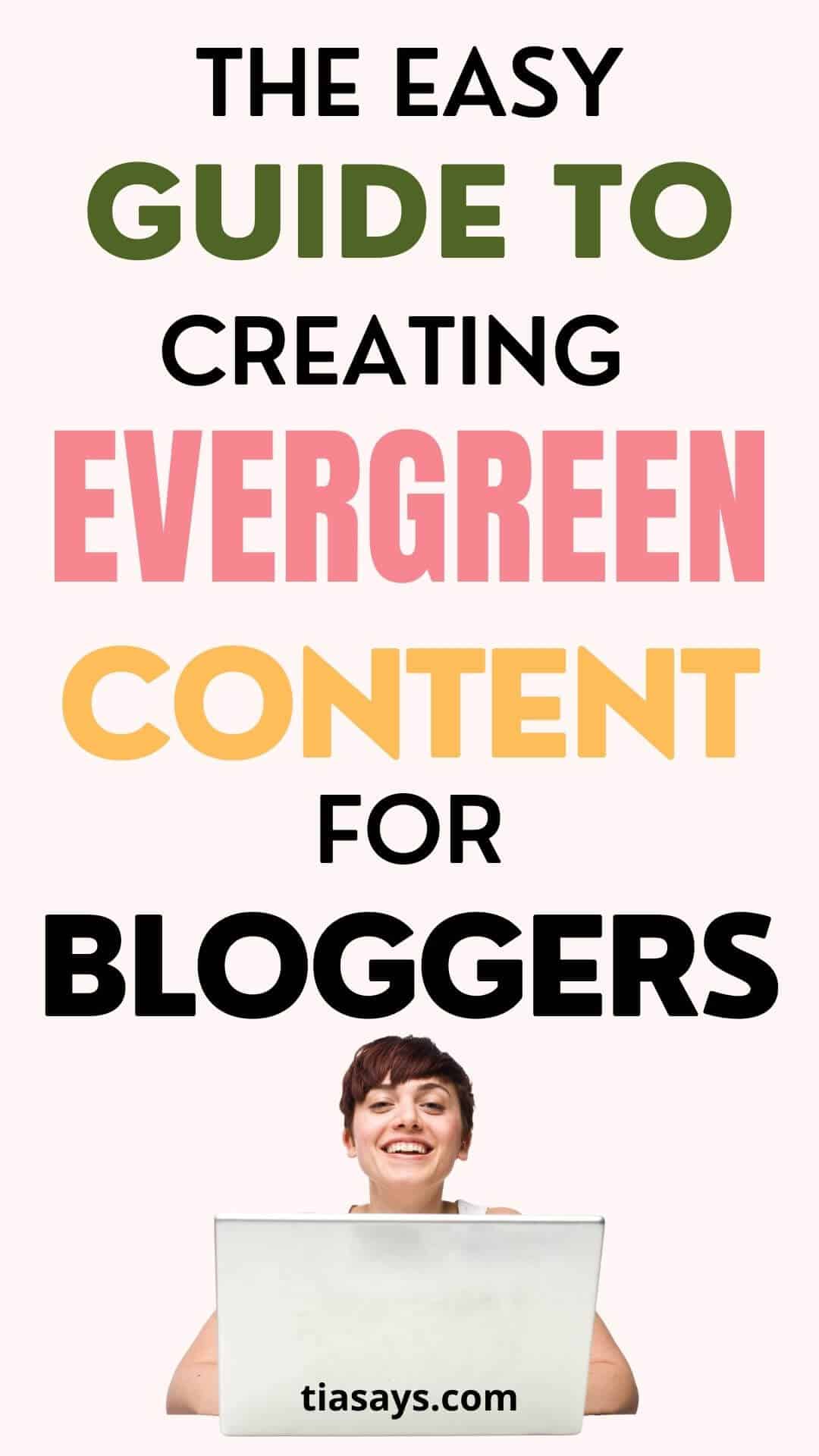 Want to drive insane traffic with one blog post? Learn how to write viral blog posts here.