Getting started with blogging is easy. Being consistent can be quite a task for most newbie bloggers. Here are my best blogging tips for beginner bloggers to help them keep going. 
This post is also for those bloggers who want to avoid blogging mistakes to be successful in blogging. 
Figuring out how things work can be hard for most new bloggers. Many of them end up quitting. 
I had to figure it all out on my own. And I believe in sharing what we learn. 
If you are on my email list you would know I share everything that I learn about blogging. 
That's how we grow as bloggers. Together. 
I have been blogging for a while now, and that's why I thought to share my blogging tips for beginner bloggers to help them grow their blogs. 
Get a pen and paper as I'm going to share lots of blogging tips and tricks for beginners so we better get started. 
SAVE THIS PIN QUICKLY.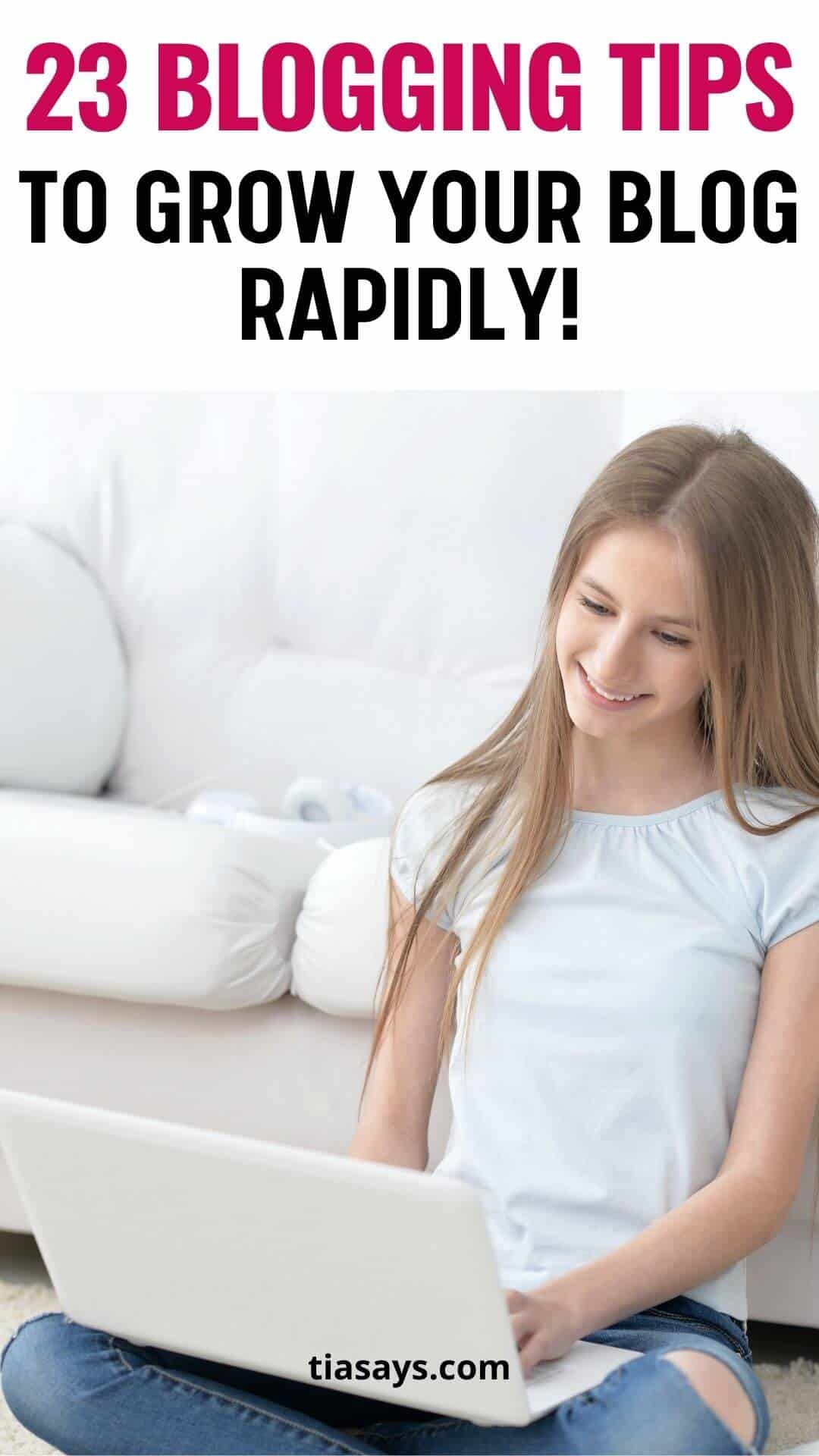 Just in case you have not started a blog then follow this 3 step guide.
The second guide is extremely detailed, I tried to cover everything.
This post may contain some affiliate links that is I may earn a small commission at no extra cost to you that I would use to maintain this blog. Thanks for understanding.
Let's begin. 
23 Best Blogging Tips For Beginner Bloggers
Here are my tips on blogging for new bloggers.
1- Choose A Good Web Hosting 
My first blogging tip for beginner bloggers is to host their blog with a good web hosting company. 
A bad web hosting company can damage your blog and its organic presence. 
How? Well, for starters, it can impact your website loading time and affect your rankings.
RELATED – HOW TO SPEED UP YOUR WORDPRESS SITE?
Therefore, you must have good web hosting that is fast, secure, and beginner-friendly. 
I use and recommend Bluehost.
You can read my full Bluehost review here. 
2- Pick A Fast Loading Theme
You don't need a fancy-looking theme. 
It will do more bad than good. 
And so one of the best blogging tips for new bloggers is to choose a fast loading and SEO-friendly theme that helps their websites in SEO. 
And not a beautiful theme that is slowly killing their sites. 
I have switched so many themes and I don't want you to do the same. 
Therefore, I recommend using the Astra theme for your blog. It is everything you need as a beginner blogger. 
You can also use the free version, check here. 
3- Invest In Learning 
Investing in learning is one of the most important tips for bloggers. 
Because you never grow if you don't learn. 
To grow your blog you need to know how to do things. 
Now, there are two ways:
Take years to figure it out by yourself. 
Invest in learning and save time. 
I have done both and for me, the second one was a better option. 
Because learning it all by yourself wastes a lot of time. I was good enough to stick around but most bloggers lose hope and quit blogging. 
Therefore, I prefer to invest in learning. I have purchased various courses by pro bloggers who share their blogging tips and tricks and I have seen better results. 
That's why I created this list of the best blogging courses online to help you choose. 
4- Stay Niche Relevant 
I have observed that publishing blog posts on a topic help in blog growth. 
Most new bloggers publish a blog post about topic A, then about topic B and this goes on forever. 
Because it confuses readers as well as Google and they can't connect. 
For beginners, the blogging tip is to select a blog niche and stick with it. 
Here's a guide on choosing a blog niche with some more reasons why blogging about everything is not a good idea. 
5- Protect Your Blog Legally
Not protecting their blogs is a common blogging mistake most beginners make. 
But this gets them in legal trouble. 
Hence, to protect your blog you must have the required legal pages on the blog. 
Read my blog post on how and why you should secure your blog. 
6- Install A Security Plugin
As your blog grows more attackers would want to get access to your site. 
Hence, you should protect your blog from these attackers too. 
That you can do easily by installing a security plugin. 
I use the Wordfence security plugin and recommend beginners to install it too. 
7- Monetize Your Blog Early
Yes, this is a beginner blogging tip. 
You should monetize your blog as soon as possible to get back what you invested. 
Blogging is nothing but an expensive hobby if you are not making anything. 
Therefore you should monetize your blog and start making money from it. 
Don't know how bloggers make money from blogging? Here are 8 monetization methods. 
8- Build An Email List
Having an email list from the first day is important. 
It is important because there's a good chance you might be making your first dollars from your email list. 
Plus, it has a lot more benefits. 
You can easily start an email list for free with Mailerlite. 
Need help with setting up? Check my guide on email marketing. 
9- Create An Ideal Reader Profile 
The most ignored tip in blogging is writing for your ideal reader. 
You can't just write for everyone. No one would engage with your posts. 
Instead, write for a target audience and a lot of people would respond. 
10- Focus On SEO
Another blogging tip for beginner bloggers is to focus on SEO from the beginning. 
SEO is awesome and it has helped me get organic traffic. 
Plus, it isn't difficult. You can easily implement SEO tips in blog posts and start getting results. 
To get started you can read my easy guide on writing SEO-friendly blog posts. 
11- Guest Blog On Other Sites
Guest blogging is a great way to show your expertise and grow your blog. 
It will get you quality backlinks which will give you better rankings on Google. 
Want to learn how to do guest blogging? Check out my guide. 
12- Promote On Social Media 
SEO is for the long term. But if you want quick results you should also be focusing on social media. Share your blog posts on social media platforms and build an audience there until you start getting Google traffic. 
However, there are many old-fashioned marketing strategies that can help you get your business seen.
13- Network With Other Bloggers
Networking is helpful for new bloggers. 
I have added it to my blog tips and tricks list because it helped me with a lot of great opportunities to grow. 
Guest blogging
Great friendship
Tips for blogging better. 
More shares
Building good relationships will help you a lot. You can learn from others and ask questions. 
Come say hi to me on Twitter. 
14- Grow Blog Traffic 
I think blog traffic is important. 
Not a lot but you still need it. 
I heard from bloggers that growing blog traffic is not that important. Focus on other things. 
But I find that traffic is crucial for your blog's growth. 
Because if you don't have the traffic you don't have
Ads income.
Email subscribers.
Affiliate sales. 
And more.
Therefore, my blogging tip for beginner bloggers is to focus on growing their blog traffic. 
Don't obsess over it but do something about it. But you should look at the reasons why your blog isn't getting any traffic and fix them.
15- Blog Consistently 
Do you know why most new bloggers fail? Because they can't blog regularly. 
I know a few bloggers who started their blogs with me but they stopped publishing. 
I tried to reach out to them but didn't get anything. 
As they say, starting a blog is easy but maintaining it is not. 
Therefore you must blog consistently. 
Because a blog that publishes 1 blog per week grows much better than the blog that published 10 blogs in a month and nothing for a year. 
So you need to plan a blog schedule. 
Learn how to organize your blog content easily.
16- Create A Blog Schedule 
Another tip on blogging for beginner bloggers is to create a blog schedule and follow it. 
I have wasted a lot of time procrastinating. I could have done a lot of things in that time. 
But do you know that when I got serious and planned a blog schedule everything changed! 
After that, I started loving the writing process and planning my blog. 
Do you know I have a go-to list of upcoming blog posts to be published for a whole year? 
It has helped me a lot. I don't have to go through the research process every time. 
I know what needs to be published next. 
It's a lot easier after creating a blog plan. 
Here's a guide I have written if you need help with planning your blog content. 
17- Write Quality Content
I have read great bloggers say "write quality content and people will automatically link to you." and I am seeing this come true. 
I receive a few pingbacks to my blog posts and they make me happy. 
I think it is because I have focused on publishing quality content on my blog from the beginning. 
And now I'm getting results. 
If you want to learn how to write quality content then start with SEO optimized articles.
18- Fix Errors Before Publishing 
I know how awkward it gets when someone unknown to you texts you to point out an error. 
Okay but humans make mistakes and it is fine to avoid a few mistakes. 
But that does not mean that you publish without checking it. 
Such content full of errors is low quality and you will notice your posts stop getting engagements or your rankings decrease. 
Therefore, my blogging tip for beginners is to proofread your content before publishing it. 
Read my Grammarly review to discover its awesome benefits.
It does a great job but I would still check the entire text myself. 
19- Create A Blog Post Template 
Writing a blog post takes time. 
But you must also publish regularly. 
But no one has time for that. And we have a lot of other tasks. So how to write the best blog ever quickly?
Here's my secret writing blog post tip. 
To create a common blog post outline and use it every time. 
I have created an outline for my posts and I use it and it saves a lot of time. I can write a blog post in 2 hours. 
Want to learn how to structure a good blog post? I have a blog post published that will help you create a blog post structure and conduct the research. 
20- Write Catchy Blog Headlines 
One of the best blog writing tips for beginners is to write catchy titles to increase clickthrough rates.
The truth is that boring titles don't convert and won't bring you any blog views. 
Your blog post headlines must tell readers what's in it for them. Why should they click?
But why boring titles don't work? It's because every other blogger out there is publishing similar content and if your blog title is just like theirs then your content would get lost among them.
So, to make it stand out you will have to give it a unique title. 
What makes the best blog title for writers? Check this guide.
21- Don't Copy Others Content
To be a better blogger you must be unique. 
So you should never copy others' content and publish it on your blog.
If you do it then you could get yourself into a lot of trouble. Yes, there's an online law for plagiarism.
If you want to share something from someone's blog then you must give proper credits to the owner by linking to the source.
But never copy others' content and claim it as yours.
22- Add Images And Optimize Them
Adding images to your blog posts has become super important. It is one of the basic blog tips for beginner bloggers.
If you don't know it yet, you can rank your blog images much easier than your blog posts. 
And images do get link clicks. 
Therefore, images help in SEO as well as bring organic traffic. 
Image SEO is another important topic. Check this post to learn my proven tips to get images ranking on Google Image Search.
Another important thing is to compress them. Please don't upload images without compressing them.
These are big files and impact site speed. I had to manually delete all images from my dashboard and upload their compressed versions. 
I use and recommend the ShortPixel plugin.
23- Track Your Progress 
Tracking your progress is one of the most important steps in a blogging journey. And hence it is one of my blogging tips for success.
To analyze if you are going on the right path you will have to track it. So how do you do it?
By setting goals.
Give yourself daily, weekly, monthly or yearly goals and do your best to achieve them.
I have seen awesome results after setting goals for my blog. I use this blog planner to manage my blog.
For example, I once decided to reach 1000 followers on Twitter in 15 days and I did everything to get there. When I got there I was so happy. 
Since then I have been giving myself daily and weekly goals. I have a to-do list and I write everything that needs to be done.
This has not only helped me with my blog but in my daily life too.
24- Use Templates
You can waste a lot of time creating a design from scratch and perfecting it every time.
As a blogger, you will need to create lots of designs, especially for Pinterest.
That's why I recommend using Pinterest templates. You can use a Canva account to customize these designs to match your branding.
Conclusion 
So these were those blogging tips for beginner bloggers that I learned in my first year of blogging.
Growing a blog takes time but the results are amazing. 
With my top tips for blogging, I hope the path becomes easier for you. 
But these are not all of them, I'll be updating them and adding more tips as soon as possible. 
I hope you found this post helpful. Follow me on Twitter, Facebook, and LinkedIn. Or why not subscribe to my newsletter and get blogging and writing tips straight to your inbox every week?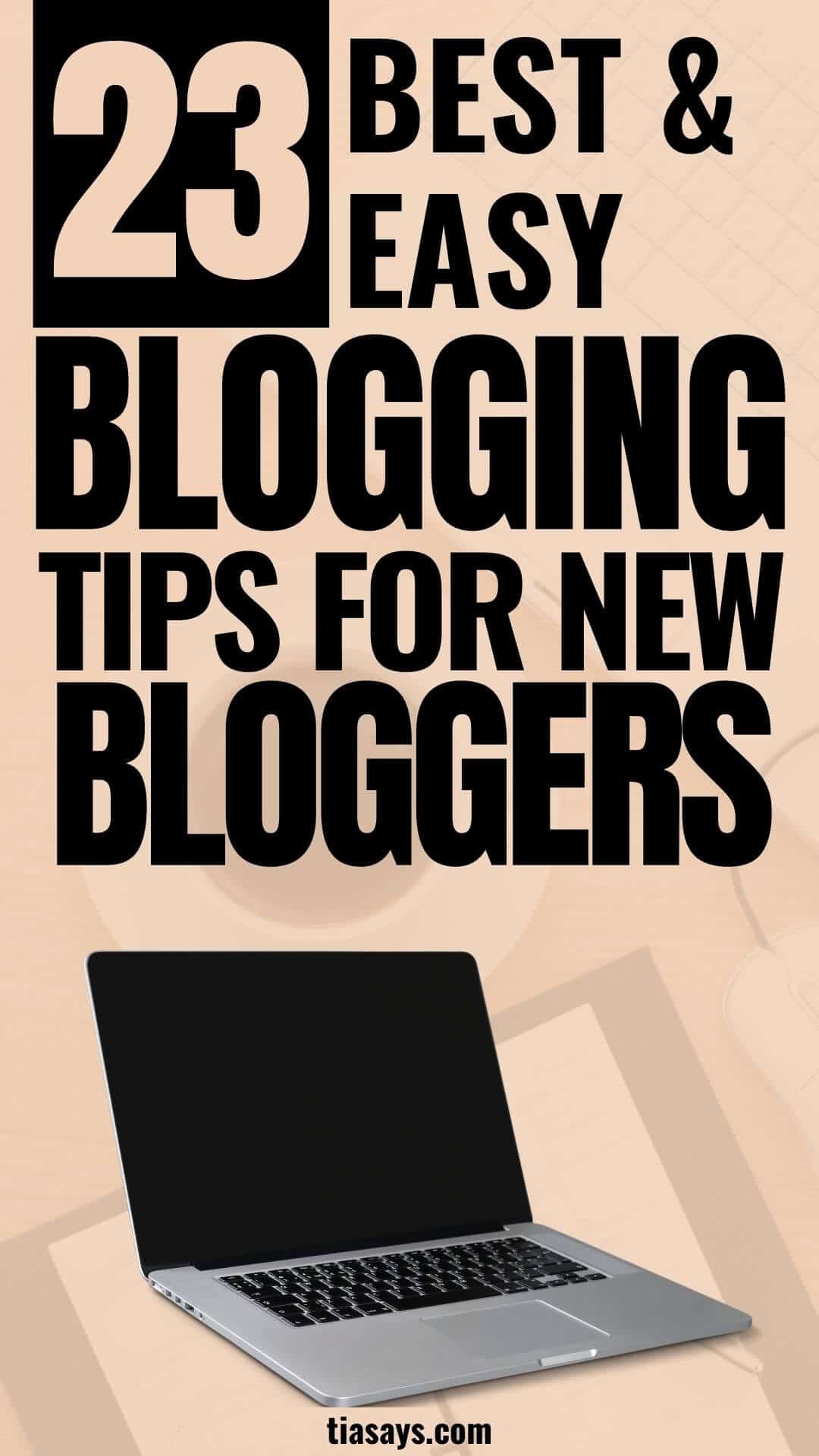 Have I missed any blogging tips for beginner bloggers? Share yours below! Or check out these productivity tips for new bloggers. to keep going.
Also, read if it's good to start a blog in 2022?