Starting a blog to make money is one of the best jobs you can find (psst, you don't have to be a writer). However, incorrect or limited knowledge can lead you to make blogging mistakes. 
I always encourage more people to start a blog and make mistakes because that's how you learn.
But at the same time, avoid as many beginner blogging mistakes as possible because that's how you grow.
As it is always good to learn from others' mistakes.
This post is therefore all of those common blogging mistakes that I made during the starting months of my blogging journey. 
I don't say that I am an expert but after blogging for a while and trying and failing, I have found some blog mistakes that I think if I had avoided, my blog growth would have been better. 
Continue reading this post if you want to find out the mistakes bloggers make and how to fix them. 
SAVE THIS PIN PLEASE.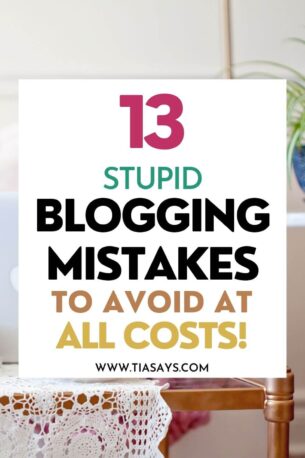 So, let's begin. 
This post may contain some affiliate links that is I may earn a small commission at no extra cost to you that I would use to maintain this blog. Thanks for understanding.
13 Blogging Mistakes To Avoid As A Beginner
1- Starting A Free Blog. 
Starting a free blog is one of the most common blogging mistakes for beginners. 
I'm also one of them. 
I started a free blog (my book blog) as a hobby, overtime when I had built some audience I decided to monetize it.
There was no problem with it. I wanted to include my affiliate links to the books I read so that my readers can also buy them. 
But the problem was that it was a free blog and so it had limited options. For example, I was not accepted in most of the affiliate programs. 
I am not against starting a free blog, they are amazing for those who blog for interest but if you want to make money from it, a free blog is not that great. 
For that, you have to start a self-hosted blog. 
What Is A Self Hosted Blog? 
A self-hosted blog is hosted on your server. 
Self-hosted blogs have a lot of advanced functionalities that a free blog does not have. 
That includes blog designing, monetization, etc. 
Making money from a self-hosted blog is easier than a free blog.
How Do I Set Up My Own Self Hosted Blog? 
It becomes very easy when you host your blog in a web hosting provider, you get to buy your blog domain and it would be yours only.
My blog is hosted at Bluehost and I love and recommend their services. Another reason is their affordable pricing options.
2- Not Choosing The Best Blog Theme.
Picking the right blog theme is an important blogging tip for beginners. 
Most new bloggers (including me) select a theme if it looks good. However, many themes that are on WordPress have a lot of unwanted files that increase the load time. 
Not all are bad. Therefore you should pick your theme after checking it.
What Is A Blog Theme? 
A blog theme is a group of folders that will design the look of your site.
Your blog theme will decide the look of your blog but there are many other things to keep in mind. 
Therefore, it becomes necessary to choose the best theme for a WordPress blog. 
How Do I Choose A Theme For My Blog?
When starting blogging, I switched to so many themes both free and paid. 
I didn't realize it sooner but I was wasting money and time.
For me, the biggest factor was the blog speed. Then I installed the Astra Theme and it has magically improved my site. 
Some of the factors to consider while choosing a theme are 
Responsiveness. 
SEO friendly.
Speed. 
Beginner friendly. 
Which Is The Best Free WordPress Theme? 
Astra Theme is an extremely lightweight theme that is coded keeping speed in mind.
But if you want to try other options then here are some of the best blog themes for WordPress if you want more options. 
And in case you need help with picking the right themes then here's a guide on how to pick a wordpress theme.
Be very sure about the theme you choose. Your website look is important but other factors are also worth noting. 
3- Not Creating Legal Pages For Blog. 
You should be blogging legally. 
And this is one of the blogging mistakes we make as a beginner. 
By protecting your blog legally you will save yourself from a lot of trouble.
For example, if you don't have legal pages on your blog then
Most affiliate programs won't accept your application. 
Advertisement programs won't accept your application. 
Brands won't collaborate with you. 
Anyone can sue you for copying their content. 
People can copy your content and you can't claim it yours. 
And more. 
Therefore, legal pages are like a certificate on your blog that you are blogging legally. 
How To Blog Legally? 
Getting legal pages is a necessity. But it can be very expensive if you do it by hiring a lawyer. However, Amira Irfan, a professional lawyer, and a blogger made it super easy for bloggers. 
She created legal templates for bloggers in which she defined all of the blogging rules and regulations at an extremely affordable price. 
Check out her legal templates here. 
This way, you will protect your blog easily without getting into trouble. 
I have a whole guide on how to protect your blog easily. 
4- Investing Unnecessarily. 
When a beginner is introduced to some interesting offer he purchases it without thinking if it is required or not. 
I know this because I have done this. 
I purchased two expensive tools. 
Tailwind and Semrush, both of the tools are great and work incredibly well (many bloggers claim it) but it is not the point. 
These tools are great for bloggers who have been blogging for a long time and have knowledge to utilize the tools to get better results. 
I purchased them without learning how to use them properly. 
Therefore, I learned that I should never invest in products when I don't need them. 
Instead, you should be buying courses that are written by experienced bloggers in your niche. 
This way you will learn something from them and get actionable tips that work. 
Never invest in unwanted tools. 
5- Not Writing Consistently. 
This is one of the best tips for new bloggers. 
Keep writing consistently. 
Many new bloggers neglect the importance of being consistent. 
But it is so important. 
I have seen so many blogs that new bloggers start and publish blog posts almost daily until they are excited but after a few days, they go blank. 
It is not how this works. 
The only reason I can think of is that they don't see results. I have a whole section dedicated to this below. 
You should be nourishing your blog regularly if you expect it to produce results.
Publishing blog posts daily is not possible. 
So, how do blog regularly? 
Plan a blog schedule and decide on an ideal blog post frequency and stick to it. (We'll cover it below)
But, always be consistent. Google also loves websites that publish regularly.
RELATED –
6- Writing About Everything. 
This is one of the dangers of blogging.
It is difficult for beginners to find out a topic and stay consistent with it. What they do is they like to write whatever comes to mind. 
When I started my book blog, I published whatever came to my mind. 
Although it sounds great, this is not the way Google thinks.
It is very important to blog on a specific topic. Because if you publish all of your blog articles on (or around) one topic Google sees it and thinks that you are an expert on that topic. 
Hence it ranks your site for keywords you are targeting as well as for other similar keywords.
Another benefit is, if you write on a specific topic you will attract a group of people who are extremely interested in reading your content. This is how you will build your target audience. 
This is why you should find your blog niche. 
If you don't have a blog niche yet, here is a guide to help you find a blog niche. And this is a list of 221+ blog niches that make the most money.
7- Writing For Everyone. 
It is similar to finding a blog niche. 
Just like you can't write on every topic you can't write for everyone. 
For example, you can't expect a fantasy genre lover to talk about science fiction. 
It is because he has different interests. 
Your goal as a blogger is to find that group of people who are interested in learning what you teach.
Such a group is called Target Audience. Finding your target audience and writing for them becomes easier.
Because you will have to publish for a few people who you are sure will be genuinely interested in your content.
Here's a guide on finding your Target Audience. You will also get a target audience persona sheet that will help you find your ideal reader.
8- Ignoring SEO. 
Ignoring SEO is not how you get organic traffic. 
What Is SEO And Why You Should Never Ignore It?
SEO (Search Engine Optimization) is a process of optimizing a website to get it to appear on search results for a keyword term. 
Most beginners ignore SEO and wonder why their posts aren't ranking.
You will have to learn SEO and implement it to get your blog posts ranking on Google. 
It will help you drive organic traffic to your blog. 
However, you don't have to learn it all at once. Not that it is possible, but the best way to learn SEO is to learn tricks and implement them on your site. 
One thing I want to mention is that SEO takes time so you should not expect quick results. I tried it on my site and started hating SEO because it didn't get me the "quicker results" I was expecting. 
Then I ignored SEO for 3 months when I noticed that one of my blog posts is ranking on Google. True story. Of course, I started learning SEO.
Therefore it takes time but it is worth it. I share all I know about SEO in this SEO handbook.
9- Ignoring Social Media. 
Although Google should be a traffic driving factor to your site, it is slow. 
It takes around 5 to 6 months for Google to pick your site and rank it. Therefore, to gain quick traction you should use Social Media. 
Now, it may not be a mistake of many beginners but I made it and regret it. 
For nearly six months I hadn't promoted my blog posts on any social media channel.
Why? Because I was scared of showing my blog posts to the public. 
I know I can be funny but I say it now. I regret it. 
Because I missed a lot of blog traffic in those 6 months. I don't say I am the best at utilizing social media now but better than nothing.
Therefore, it is time you start utilizing social media for your small business.
10- Not Fixing Silly Grammar Errors.
I have seen this on so many blogs. 
Common typing mistakes. 
I know we all make mistakes and I should not point them out. And, honestly, one or two mistakes is okay. 
No one is going to notice them. But if your blog posts contain a lot of errors then they may not serve a good user experience to your readers.
I remember, a connection from LinkedIn messaged me to point out one of my punctuation mistakes. All I could say to him was "we all make mistakes!"
Therefore, you should proofread your blog posts before publishing them. 
I'm not saying to obsess over it. Just make sure it is error-free. 
I love, use and recommend Grammarly for proofreading drafts. 
It is so great that it tells me all the errors I need to correct. And the premium version is fabulous. 
11- Not Having A Blog Plan. 
So glad we came to this. 
My blog is one year old. And after 10 months I started following a blog content plan. 
Let me share with you my blog's situation before and after following a blog plan.
Before having a blog plan I would 
Hardly publish 2 blog posts in a month.
Not schedule future blog posts.
Stay away from my blog as much as possible.
After having a blog plan I am
Publishing one blog post every week.
Not worried about what to write about.
Focused to complete my daily tasks.
So you see, having a blog plan has made me an organized blogger and I could do more tasks that I have decided. 
The key is to set real blog goals and do everything to fulfill them.
Here are two resources to help you create a blog plan.
12- Copying Others. 
You should never copy others.
I want to clarify that I don't mean copying and pasting others' content (you should also not do this.) but I mean doing the same things. 
There's nothing extremely wrong with this but it will not help you in the long run. 
Because every blog is different and every blogger is at a different stage of his journey. 
What's working for him may not necessarily work for you. 
For example, if a blogger is launching his ebook that doesn't mean that you should too. Because he is blogging for a while and he has built an audience who will buy his book. 
But, the same is not true for you. 
Therefore, understand where you are at and find out doing what will help your readers. 
In the end, it is all about your readers. 
13- Expecting Quick Results.
Last but not least. 
Don't expect to see overnight results. This is not how blogging works. 
I have seen it myself. Remember the SEO story. 
I did the hard work and got my post ranking on Google. 
Do you wonder why most bloggers fail? 
It is because they lose patience. 
You can make money from your blog. I say this because there are so many monetization methods. 
All you have to do is to publish helpful information consistently for a while, build your tribe and then monetize your blog to make money from it. 
Does it sound like something you can do? Yes.
Remember, you are already a step ahead because you are still blogging and they left it. 
To give you a headstart here are the free blog resources that I created to help new bloggers grow their blogs.
Conclusion
So, here are those common blogging mistakes that most beginners make. 
Along with each mistake, I have also shared my blogging tips and tricks that you can apply to avoid these blogging mistakes. 
I hope you now have clarity on what you should not do when blogging. 
Blogging is amazing, one just needs to be consistent. 
Now, if you are not sure what type of blog posts to write here are some examples that perform well for beginners. 
You will also get a list of 150+ blog post ideas for beginners so that you never run out of ideas.
I hope you liked the post. 
If you have any questions please let me know in the comments section. 
I hope you found this post helpful. Follow me on Twitter, Facebook, and LinkedIn. Or why not subscribe to my newsletter and get blogging and writing tips straight to your inbox every week?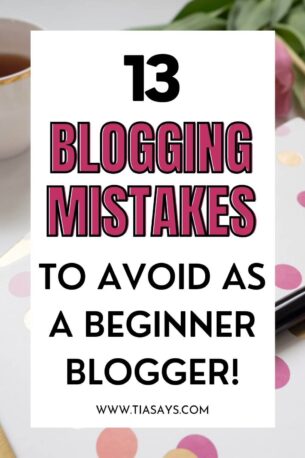 What is your blogging mistake that you would like to share?