To start a successful blog you must choose the best hosting for a blog or website.  Compare the best web hosting sites from this list best suited for bloggers. And choose the best web hosting for your blog.
Whether it is your first blog or second you know how important it is to pick good and trustworthy web hosting. 
Not sure how to choose web hosting? Don't know which one to go with? 
Keep reading this post as you will get answers to all your questions and many more. 
You will also be able to choose the best web hosting services for blogging based on the parameters that actually matter. 
Ultimately, you will have everything to go with the best web blog hosting site to start your money-making blog. 
Save this pin and help me reach more bloggers.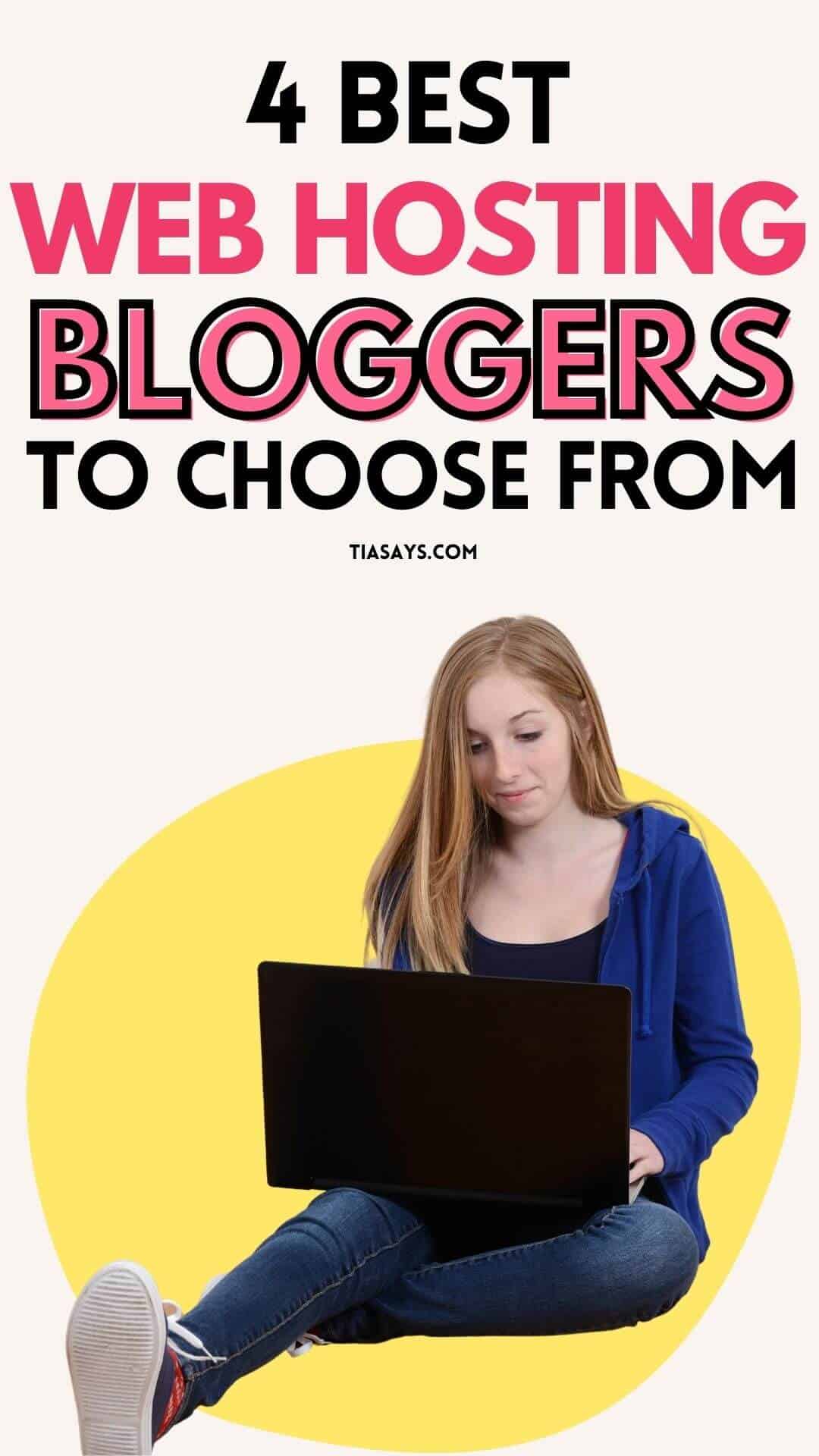 This post may contain some affiliate links that is I may earn a small commission at no extra cost to you that I would use to maintain this blog. Thanks for understanding.
Which is the Best Web Hosting for Beginners? 
If you don't have time to read the post, the best website to host a blog is Bluehost. 
It's also the web hosting I use for my blog and have been using for 1 and a half years now. 
Bluehost is a perfect blog hosting for you because they are wonderful at their customer service. If you ever get stuck somewhere you can immediately contact their customer service and they will help you. 
But if you want to look at the reasons why you should pick Bluehost, please keep reading. 
What to Consider When Choosing A Web Hosting Provider? 
There are many things that you must check before considering a web host. 
Choosing anyone randomly is not the right way. But what you must know about them? How are you going to choose blog hosting? 
Here are some things that you must make sure are in your web hosting. 
Customer Service
Your web hosting must help you anytime & every time you want. And in many ways. Such as call, chat, email, etc. 
If you are new to blogging then you will need help in many cases. Then your web hosting provider should be there to help you. 
Affordable Pricing
The pricing plans should be affordable. Interestingly, starting a blog isn't as expensive. 
You will find options in the list of web hosting sites below at reasonable prices.  
Website Loading Time
To keep readers on your site you need a quick loading site (3 to 4 seconds). And, speed is a ranking factor. 
So make sure your blog hosting doesn't suck at loading. 
Beginner Friendly
Since you are new (and even if you are not) you need a web hosting that has a beginner-friendly dashboard. 
Not one that complicates things. You have a lot to worry about.
Uptime Value
Uptime means how quickly the web hosting restores the site when the server is down. 
It must never show a server error signal to the visitor. 
Free Migration
If you are migrating your blog then you should check if the blog hosting site you are choosing has free migration services. 
Because hiring someone else to do it can be really expensive. 
Most top blog hosting sites offer free migration. You should ask them.
Safety
Your blog hosting should be dedicated to protecting your as well as your readers' information. 
Best web hostings have 2-factor authentication options to make sure that no one can access your site without your permission. 
Reputable
Lastly, be very sure that many other people use that web hosting. 
It should be a big name that hosts many sites. Like, Bluehost is powering more than 2 million sites.
And not a web hosting that rarely anyone knows. 
So, you know what to expect from web hosting. 
Now, let's look at some of the best web hostings for bloggers. 
5 Best Web Blog Hosting Sites For Bloggers And Beginners
Here's an interesting comparison of various web hosting for bloggers to help you find your next web hosting. 
Bluehost
Bluehost is the best web hosting for bloggers. I chose this because of many reasons. 
I love Bluehost for two reasons. 
Their customer service is wonderful. They have helped me all the time. And very friendly and willing. 
Site loading time. My blog loads within 3 to 4 seconds because they have various caching and CDN options. 
Here are the pros and cons of choosing Bluehost. 
Pros – 
Affordable pricing plans. Starting with $2.95 per month. 
Free domain for a year. 
WordPress recommended hosting. 
Free SSL certificate. 
24*7 helpful customer service. 
Quick loading site. Cloudflare CDN is integrated.
Free domain emails. 
Safe and secure. 
Cons – 
Addons are separately priced. 
Renewal charges are higher. 
If you are not sure they offer a 30-day money-back guarantee. 
So you can definitely try Bluehost. 
Host your blog with Bluehost today! 
Dreamhost
Dreamhost is my second favorite. It is also a reputable web hosting site that is also WordPress recommended. 
Just like Bluehost, it offers an uptime value of 99.99% that means if your site ever goes down it is restored immediately. Awesome, right?
Poor web hosting may not load your site at all and this causes the worst user experience. 
Talking about loading, Dreamhost has WordPress-optimized servers. 
Don't believe me? Check out Dreamhost now.  
Pros – 
Easy to use.
Fast loading site.
24*7 expert support. 
Dreamhost pricing starts at $2.59 per month. 
Start your blog on Dreamhost and get a free domain now. 
HostGator
HostGator is another great web hosting for beginners. 
They offer free domain (costs 10-11 $ per year) and free migration services. 
Plus, a free SSL certificate so you build trust with your audience. 
And like Dreamhost they offer 99.99% uptime value so your site is always working. Even when you are sleeping.
Their shared hosting plans start with $2.75 per month. 
And the WordPress plan, which is optimized for speed, begins at $5.95 per month. 
Start your blog with Hostgator today!
Hostinger
Hostinger is great for beginners who are short on money. Because the pricing starts at $1.39 per month. 
But don't just go for Hostinger's low price, it is still great hosting.
Some of the features of Hostinger are – 
Free domain
Easy to set up
Expert chat support
WordPress optimized
All of that for only $1.39 only. And you also get a 30-day money-back guarantee, if you are not satisfied. 
GreenGeeks
If you are a nature lover and a business owner then you would love GreenGeeks. Because it is an eco-friendly web hosting that works on a renewable energy concept.
But, it is a wonderful web hosting with 99.9% uptime, affordable pricing plans, optimized site performance, and many more. Here are many reasons why GreenGeeks hosting is good.
You get the lite plan for only $2.95.
Go green and start a blog on GreenGeeks here!
Why Not Free Blogging Platforms? 
You might want to consider starting a free blog but it isn't going to be profitable. 
I started a free blog and it didn't work out for me. I had to close it. 
The reason is, free blogs are limited. 
In terms of
Monetization
SEO optimization
Customization
You can't easily monetize it freely. Even if you don't plan to make money from it now, in the future, you will want to. 
Mostly when you start having 10k or even 20k visitors every month.
Also,
Many free blog hosting sites aren't great for optimizing SEO. So, they don't easily appear on Google rankings. 
What's the point of a blog that doesn't attract visitors? 
And,
You can't customize your blog according to your choice. Most free sites have their branding logo at the bottom of your site. 
And you can't get rid of them. 
So you should never start a free website. You can waste time trying. 
Some FAQs On Choosing A Perfect WordPress Hosting For Beginners
What is web hosting? 
Web hosting is an online space you buy to host your blog. Read more about web hosting here. 
Which is the best hosting for beginners? 
Bluehost is the best WordPress blog hosting site for beginners. It is because of its user-friendly approach and amazing customer support. 
Which Bluehost plan is best for bloggers? 
New bloggers should choose a $2.95 per month plan because it is very affordable. But if you want to learn more head over to this guide.
What is the best free blogging platform? 
WordPress is the best free blogging platform that runs a majority of sites. Therefore, always choose WordPress-optimized web hosting. 
Conclusion – Which is the best web blog hosting site for bloggers?
So these were the best web hosting sites for beginners. 
Bluehost is a perfect web hosting site for new bloggers as well as those who want to migrate their blogs because it offers an excellent service. 
Try it with the 30-day money-back guarantee today. 
So, what is your favorite feature of Bluehost? Have you used Bluehost before? 
Let me know if you loved it. 
I hope you found this post helpful. Follow me on Twitter, Facebook, and LinkedIn. Or why not subscribe to my newsletter and get blogging and writing tips straight to your inbox every week?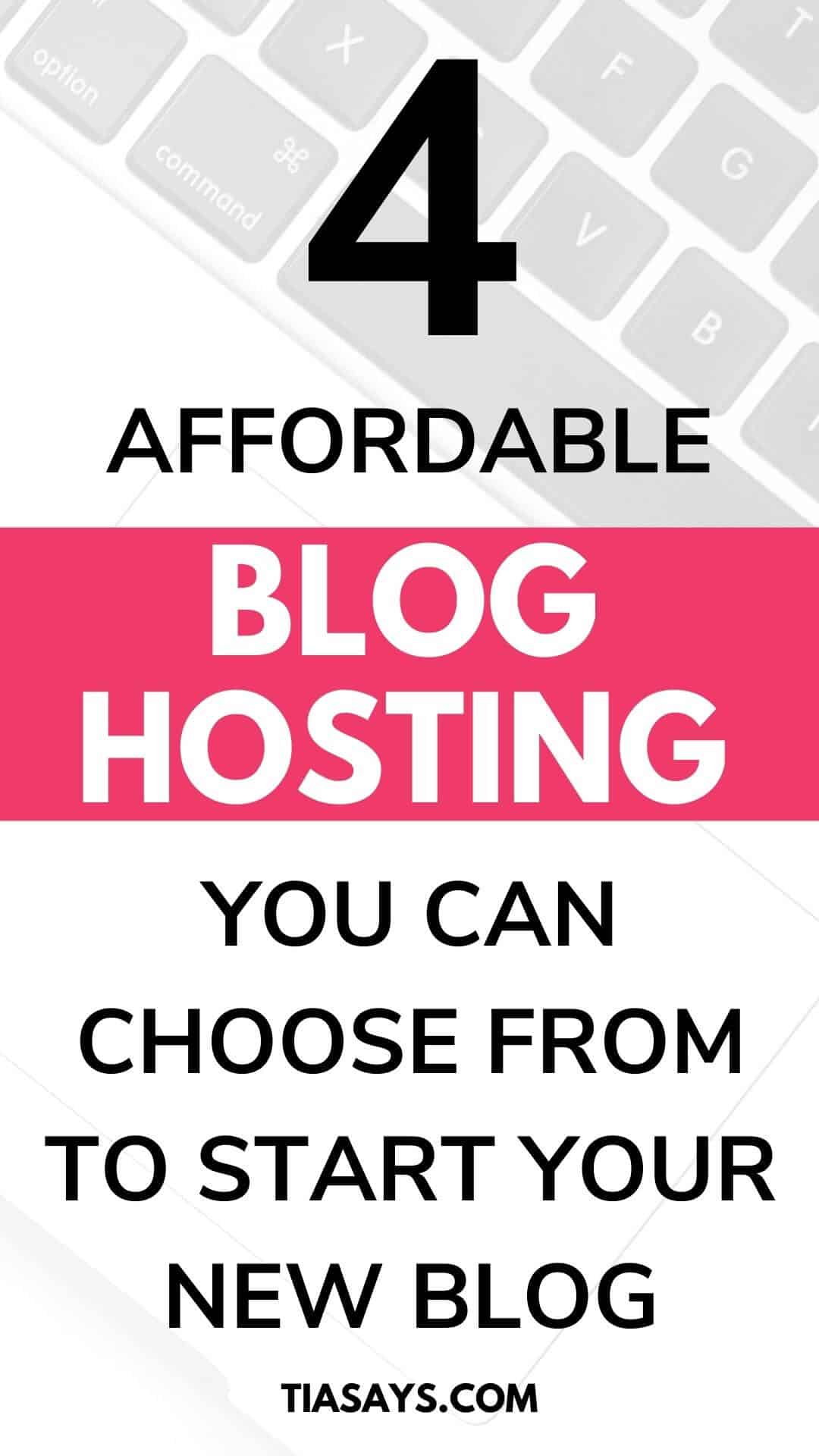 You would like to use these WordPress plugins on your new blog.